CubeSat GPS antennas and GNSS systems are important for effective navigation, coordination, and payload operation. This article gives an overview of antennas that have been developed for nanosatellites, CubeSats and other small satellite form factors that are available on the global space marketplace.
The article begins with a brief introduction to GNSS systems and technology, but if you would like to skip straight to the product listings, please click here.
---
Introduction
As the range of applications that small satellites can carry out grows, and the systems themselves get smaller thanks to electronic miniaturization, it is increasingly important for operators to be able to access accurate information on their position while in orbit.
Effective attitude control systems enable responsive position fixes in orbit, while communications systems (operating in the X-, S-, or UHF band for example) that connect to the ground also allow satellite operators to take more active, manual control by sending commands to the relevant actuators.
Another option is for a small satellite to make use of the regionally or globally available satellite positioning systems that were primarily developed for navigation on Earth.
The general term for such networks is Global Navigation Satellite System (GNSS) with the Global Positioning System (GPS) being the most well-known.
---
How satellite GNSS networks operate
GNSS networks are constellations of large satellites in higher Earth orbits; typically Medium Earth Orbit (MEO), at altitudes of approximately 2,000 – 35,000 km, or Geosynchronous Orbit (GSO) at an altitude of 35,786 km.
These constellations produce global signals, across a range of frequency bands, which are picked up by terrestrial GNSS receivers in order to give accurate position information on the ground.
These are the signals used by your car's satnav, your fitness tracking app when out for a run, or that give live location information on an expected parcel's delivery.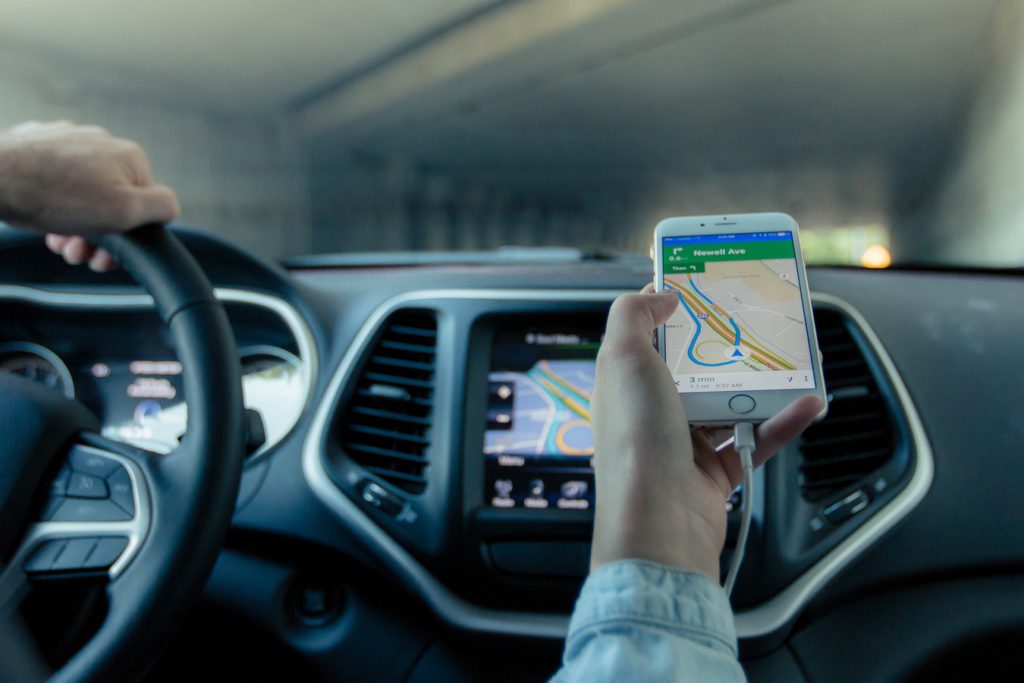 By adapting ground-based equipment, or by basing new designs for space on them, sub-system manufacturers have developed GNSS receiver systems for satellites that enable navigation information and positing activities on a CubeSat or other small satellite.
There are various structural differences between terrestrial and space-based GNSS equipment.
For example, on Earth such devices are usually built from low-cost, widely-available, commercial-off-the-shelf (COTS) parts. To operate effectively in space such components may need to be adapted to meet the huge thermal and mechanical stresses of launch, radiation-hardened, and made suitable for operating in a vacuum.
CubeSat GPS antennas and GNSS antennas play an important role in the acquisition and translation of the GNSS signal originating at one or more of the existing networks.
---
GNSS networks
There are several GNSS networks giving coverage across one or more countries and territories. Such networks have been launched by sovereign nations, international organizations, and even private companies.
Global satellite-based navigational systems play a fundamental role in many aspects of industrial activity, military operations, and in consumer products.
Satellite GNSS equipment will often have the ability to connect to multiple networks as needed, in order to extend coverage spatially, and to provide redundancy in the case of one signal being unreachable.
This list below gives an overview of the different networks that a small satellite antenna may be able to interact with:
---
GPS
The Global Positioning System (GPS) is the most common GNSS around the world. It is owned by the United States government and plays a major role in a wide variety of industrial processes, consumer products, defence applications, and intelligence services.
Note that GPS is often used synonymously with GNSS, but in fact GPS is simply a type of GNSS, in the same way that a reaction wheel is a type of attitude control system.
The GPS is operated and maintained by the U.S. Air Force and more in-depth information is available at GPS.gov, a website maintained by the National Coordination Office for Space-Based Positioning, Navigation, and Timing.
CubeSat GPS antennas enable systems to connect to the primary GPS frequency in the L-Band, between 1 and 2 GHz.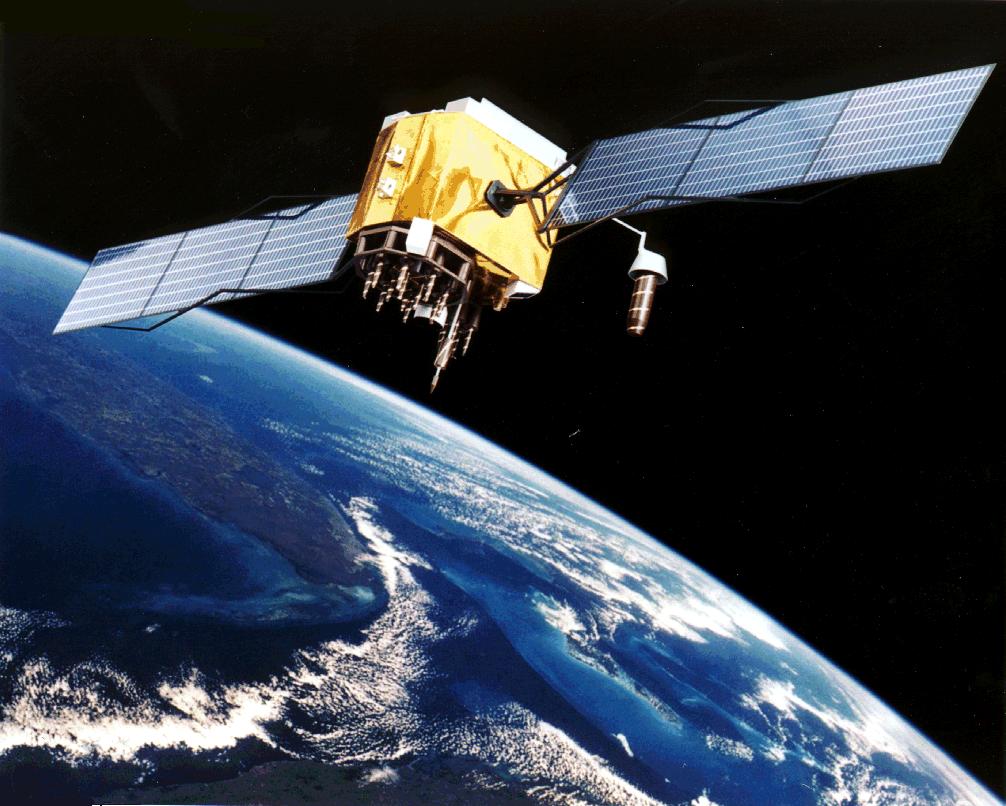 ---
GLONASS
The Globalnaya Navigazionnaya Sputnikovaya Sistema, or Global Navigation Satellite System, is typically referred to as GLONASS. Initially covering the former Soviet Union, GLONASS now has worldwide coverage and enables satellite navigation systems to use it alongside GPS for faster, more accurate position fixing.
GLONASS is a major part of the Russian space agency Roscosmos' operations and operates in the following bands:
G1 Band: 1589.0625 MHz to 1605.375 MHz
G2 Band: 1242.9375 MHz to 1248.625 MHz
G3 Band: 1201 MHz
---
Galileo
A GNSS created by the European Union (EU) through the European Space Agency (ESA) and now operated by the European GNSS Agency (GSA).
Galileo was created to enable Europeans to access a global positioning system independent of GPS or GLONASS, and is freely available worldwide to an accuracy of 1 meter, which can be increased to 1 centimeter in an encrypted form for commercial customers, in the High Accuracy Service (HAS).
Galileo operates in the 1.1 to 1.6 GHz band; a frequency range that is well-suited to mobile navigation and communication services.
Each Galileo satellite is designed to broadcast 10 different navigation signals making it possible for Galileo to offer open (OS), safety-of-life (SOL), commercial (CS) and public regulated services (PRS).
---
BeiDou
The BeiDou Navigation Satellite System is generally referred to as BeiDou, or simply BDS, and is a worldwide GNSS created and run by the People's Republic of China. The system was formerly called Compass and began its life by offering regional coverage in China before branching out globally.
Now in its third phase of development, the BeiDou system provides connectivity in the following open service channels:
B1I: 1561.098 MHz
B1C: 1575.42 MHz
B2I: 1207.14 MHz
B2a: 1176.45 MHz
B2b: 1207.14 MHz
B3I: 1268.52 MHz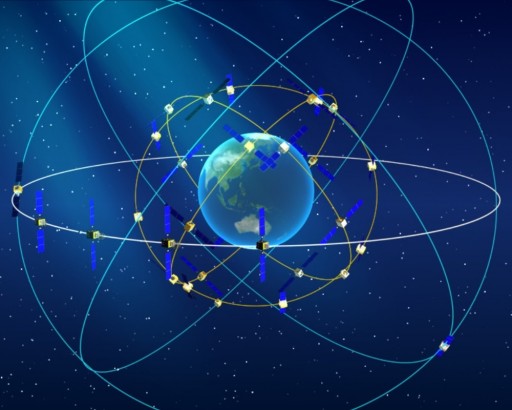 ---
IRNSS
The Indian Regional Navigation Satellite System (IRNSS) is a regional GNSS owned and operated by the Government of India via the Indian Space Research Organisation (ISRO). It also has the operational name Navigation with Indian Constellation (NavIC).
NavIC satellites use dual frequency bands that provide signals in the L5-band and S-band. The system is designed to provide accurate position information in a primary service area that covers India and a region extending up to 1,500 km from the country's borders.
It also offers a level of coverage in an extended service area that lies between the primary service area and area enclosed by a rectangle from Latitude 30 deg South to 50 deg North, Longitude 30 deg East to 130 deg East. You can find out more about the system on the ISRO site.
---
QZSS
The Quasi-Zenith Satellite System (QZSS) is also a regional GNSS, in this case owned by the Government of Japan and operated by QZS System Service Inc. (QSS).
It is designed to complement GPS coverage in Oceania and East Asia and is sometimes referred to as the Japanese GPS. The constellation provides the following signals:
L1C/A, L1C, L1S, and L1Sb with a center frequency of 1575.42 MHz
L2C with a center frequency of 1227.60 MHz
L5 and L5S with a center frequency of 1176.45 MHz
L6 with a center frequency of 1278.75 MHz
S-band operating in the 2 GHz band
Find out more about the QZSS at the official website here.
More information on each of these GNSS networks is available on the operators' websites and in this excellent article by Bliley Technologies.
Now that you have been introduced to the use cases for GNSS and GPS connectivity in small satellites, and gained an understanding of the major GNSS constellations which they may access – let's next take a look at what you may want to consider when selecting a small satellite GNSS or CubeSat GPS antenna for your individual needs.
---
Understanding your requirements
We recommend a simple four-step approach for the preliminary selection of any new piece of hardware or software for a satellite or other space system.
Note that this is just a basic guide based on what we've learned helping hundreds of buyers select products within our marketplace and get rapid responses from suppliers.
It is just meant to help engineers make an initial assessment and shouldn't replace formalised systems engineering approaches such as the INCOSE Model-Based Systems Engineering (MBSE) CubeSat frameworks.
Specify your currently known mission parameters,
Record all currently known overall design specifications of the system,
Consider the range of technology that will be used in the satellite and in ancillary sub-systems, and
Take into account the key performance criteria of the kind of product you wish to procure.
These criteria are explained in more detail below.
---
Mission parameters
The first step is to fully understand the currently known mission parameters, including both the critical applications and desirable, but not necessarily essential, objectives.
Typically the more precise mission parameters will only be established later in the process – usually iterated upon in a number of loops by considering the "system of systems."
But having an idea of what functions your selected technology is likely to need to perform, and on what schedule and duration, will make selecting the most suitable model much easier.
Also consider the launch stresses, testing processes and regulatory compliance that the product will need to go through in order to make it into orbit, as well as any obsolescence procedures once the mission is complete.
---
Overall design specifications
Next, keep to hand all currently known design information about the entire unit.
This can include the volume, weight, primary structural material and more basic things such as the location, storage and transport arrangements of the major components.
You will need to make sure that the new piece of technology you choose will be suitable for these parameters.
---
Full range of technology
Once you are clear on exactly what tasks the new product will need to perform and the design characteristics of the satellite or other unit that it will work within, the next consideration is the full range of technology that will sit alongside the product to make sure that everything is compatible.
You may not yet know the entire range of accompanying technology (and you might need to first choose the product model you are interested in in order to make decisions on other components), but make sure you have access to all available technical specifications of sub-systems and structural components that are most likely to be used, as per the current mission plans.
It is important to understand how different sub-systems and components will interface with each other to create a high-performing satellite.
Balancing the available mass, power and volume budgets is also important, which can only be done with a clear plan of which components will be used.
Also consider how the product will work with the planned or existing ground segment to ensure effective data transfer and communication stability.
Now that you have a clear idea of what sort of product is needed for your mission, system, and existing platform setup, the next step is to compare the commercially-available products that meet these criteria according to the most relevant performance metrics.
---
Key performance criteria for CubeSat GPS antennas
In order to determine the optimal GNSS antenna system for your mission or service it is important to take into account technical specifications, such as:
Frequency – choose the most relevant and accessible operational signal band and/or central frequency for your needs (see the section on GNSS networks above for more on the available bands).
Antenna gain – a measure of how well the antenna can convert power into radio waves in a specified direction.
Polarization – a definition of the polarization of the radiated fields produced by an antenna; this is important for antenna-to-antenna communication. Usually classified as "Linearly Polarized" or "Right Hand Circularly Polarized (RHCP)".
Return loss – ratio of the radio waves rejected by an antenna to those accepted.
Axial ratio – ratio between the minor and major axis of the polarization ellipse.
Mass
Bandwidth – the range of frequencies over which the antenna can operate effectively.
Directivity – a measure of how concentrated emitted radiation is, in a chosen direction.
These are just some of the most important attributes that are typically considered when designing or purchasing GNSS connectivity equipment for a small satellite, such as CubeSat GPS antennas. In the section below you can find links to further information and resources on commercially-available products.
---
GPS and GNSS antennas on the global market
In this section you can find a range of smallsat, nanosat, and CubeSat GPS antennas and GNSS systems on the global market. These listings will be updated when new products are added to the global marketplace for space at satsearch.com – so please check back for more or sign up for our mailing list for all the updates.
You can also view alternative satellite communications and navigational equipment categories for which we have put together the following overviews:
Get more information on all products listed at the click of a button
We can help you access quotes, lead times, or any other information from all of the suppliers listed below (and more) with our simple, free tender system. Just share your details with us and wait for the responses to arrive in your inbox.
---
The ANYWAVES GNSS All-Bands Antenna is designed for satellite applications. Its design has a stable phase centre providing high accuracy. The antenna is optimized to cover worldwide navigation systems including INMARSAT in L-band. It weighs approximately 127 grams and has the capability to operate in temperatures ranging between -120°C / +120°C.
1160 — 1610 MHz (GPS L1/L2/L5, Galileo E1/E5a/E5b/E6, Glonass G1/G2/G3, Beidou B1/B2a/B2/B3)
1525 — 1559 MHz (Inmarsat L-band)
The ANYWAVES GNSS L1/E1 Band Antenna is designed for satellite constellations. It consists of ceramic material within a very compact volume. The antenna features radiation characteristics within a compact design. It is also capable of withstanding harsh environments without radome. The product weighs approximately 88 grams and has the capability to operate in temperatures ranging between -150°C / + 150°C.
1.563 — 1.587 GHz (L1)
1.559 — 1.591 GHz (E1)
> 5.5 dBi at boresight
> 4.3 dBi at ± 30°
> 1.1 dBi at ± 60°
The NewSpace Systems NANT-PTCL1 GPS Antenna is an active GPS patch antenna that can be used with the company's GPS receivers. It utilizes a COTS chipset which has been flying for more than a decade, and the GPS circuitry at the heart of the receiver can also be deployed as a single mezzanine board to accompany the NSS CubeSat ACS board or as a standalone boxed or unboxed version for CubeSats.
Right Hand Circular (RHCP)
The SkyFox Labs piPATCH-L1E1 is a GPS-L1 + GALILEO E1 CubeSat Active Antenna module designed to provide strong signal reception in space. The module is suitable for projects requiring stronger GPS signal reception with enough margins due to the use of easy access MCX signal and power interface. Product is manufactured in two grades to satisfy both Engineering and Flight requirements.
1575.42 MHz (GPS L1, GALILEO E1, mount-dependent)
The SkyFox Labs piPATCH-MAX is a Multiband Micro Satellite Active Antenna module designed to provide strong signal for GPS satellites reception in space. The antenna is fully compatible with piNAV-L1, piNAVi-L1 and pqNAV-L1 GPS navigation solutions as well as other GPS/GLONASS receivers with biased RF antenna inputs in the nominal range of 3.3V to 5V DC.
1575.42 MHz (Civil GPS L1 + Galileo E1 + BeiDou B1)
1602 MHz (GLONASS G1)
The SkyFox Labs nanoPATCH-L1 is a GPS-L1 CubeSat active antenna module designed to provide stronger signal for GPS satellites reception in space. The product is manufactured in two grades to satisfy both Engineering and Flight requirements. The modules (/EM, /FM) are electrically identical, however their chemical and mechanical properties allows it to be used in laboratory or space, respectively.
The SkyFox Labs microPATCH-L1 is a GPS-L1 CubeSat active antenna module designed to provide stronger signal for GPS satellites reception in space. The product is manufactured in two grades to satisfy both Engineering and Flight requirements. The modules (/EM, /FM) are electrically identical, however their chemical and mechanical properties allows it to be used in laboratory or space, respectively.
1575.42 MHz (GPS L1, mount-dependent)
The SkyFox Labs miniPATCH-L1 is a GPS-L1 CubeSat active antenna module designed to provide stronger signal for GPS satellites reception in space. The product is manufactured in two grades to satisfy both Engineering and Flight requirements. The modules (/EM, /FM) are electrically identical, however their chemical and mechanical properties allows it to be used in laboratory or space, respectively.
1575.42 MHz (GPS L1, mount-dependent)
The SkyFox Labs piPATCH-LG is an active antenna with dual GPS L1 + GLONASS bands and up to 50 dBc-Hz SNR on ground for close-to-zenith satellites.
The AAC SpaceQuest ANT-GNSS-2 is a space-qualified L-band patch antenna tuned to the GPS frequency bands. This low-profile antenna provides hemispherical coverage and a built-in Low Noise Amplifier (LNA). This antenna is ideal for microsats and smallsats, but can also be mounted recessed on CubeSats.
5.0 dBiC (90° zenith, free space)
An off-the-shelf active antenna for nanosatellites. The antenna is mounted onto a Rogers PCB and is designed for GPS-L1. It is suitable for providing CubeSat platforms with positioning information and is compatible with the ISIS structures.
1572 — 1578 MHz (GPS L1 / GALILEO E1)
The AP.25E has been designed specifically for embedded (inside device) integration with GPS receiver modules where there is a GSM transmitter nearby and risk of interference and saturation.
---
Thanks for reading! If you would like further help identifying a GPS or GNSS antenna system for your specific mission or service please click here to send us a query and we'll use our extended global networks of suppliers to find the information you need.
Have you noticed that your company isn't included in this article? Simply send us an email today, and we'd be happy to work with you to showcase your products to the satsearch community!