Building satellites is a challenge in itself. However, ensuring that the satellite is maximizing its utility once in-orbit involves a series of complex steps and technology that needs to be accurately and efficiently deployed in order to get quality results.
This requires making sure that antennae are available on the ground to constantly monitor satellite status and provide an opportunity for the operators to download the data required by their customers.
Small satellites zip around the globe at speeds that result in them getting just 10-20 minutes of communication time with ground-based antennae, depending on the location.
Therefore, a critical challenge for smallsat operators is how to maximize the amount of time a satellite can talk to an antenna on the ground.
However, it is complicated, expensive and time-consuming to develop a single new ground station, let alone several, based around the world, that would be required to increase available uptime in contact with the satellite.
One of the possible solutions is the use of a network of existing ground stations spread across the world to increase the possibility for communication between the satellite and the ground.
In this post we focus on companies that are offering this service to operators, allowing them to use an established set of facilities so they can run more effective space missions.
We discuss the how ground stations as services work, the benefits that service providers can bring to satellite owner/operators and give an overview of some of the key players in this sector of the modern space industry.
Please note that this aspect of the supply chain has recently been undergoing a number of changes with new suppliers and products coming to market – we will therefore keep this post updated over time with new product and service information. To stay up to date, please consider bookmarking this page and subscribing to our weekly newsletter at the link below.
How do ground station services work?
The primary benefit of a ground station network is its coverage. A station spread across the world (particularly at the poles) will enable operators to communicate to satellites and access space-based data far more often so that clients can be better served.
However, building your own ground station network can be extremely expensive and involves not just financial challenges, but also a myriad of regulatory hurdles, as every country may have different rules on the operation of ground stations in their territory.
We recently discussed the existing body of space law on our blog, highlighting how national rules and procedures play a vital role in governing space activities. This is particularly true of ground stations that are permanently situated in a territory and these compliance requirements can prove very arduous for smaller satellite operators to meet.
As an alternative, ground station service providers offer potential savings in time and money by allowing clients to access communication assets already in place, whenever they are required.
Ground station services can be thought of as an example of the sharing economy applied to the space industry, allowing clients to access ground stations based on different metrics such as pay-per-pass, pay-per-data and so on. There are a couple of different approaches to this service emerging in the marketplace.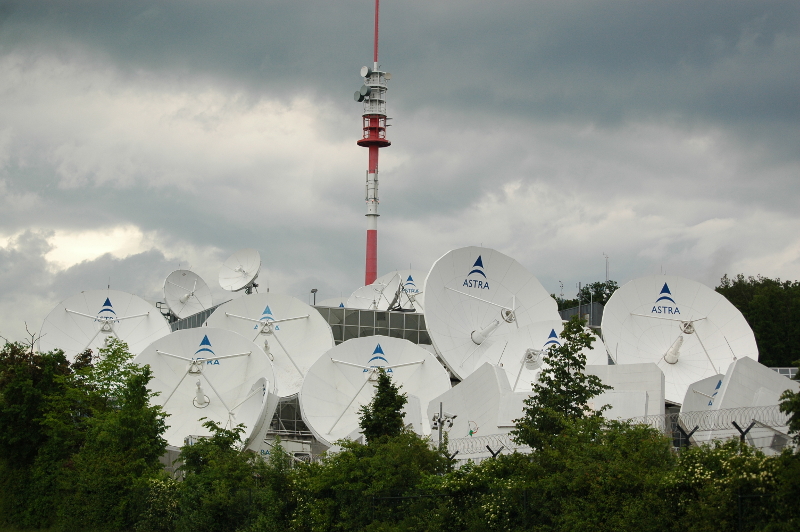 Understanding ground segment-as-a-service
The two main distinct models followed in the industry for the ground segment-as-a-service providers are:
Dedicated ground network as a service – in which companies who have installed dedicated ground stations across the world are renting out the capacity available at these stations.
Ground station capacity aggregators – in which companies are able to offer the spare time on existing antennae spread around the world that were installed by legacy industry operators or agencies.
Below we have included the details of a variety of services available on the global marketplace for space in these two categories.
Dedicated ground station network providers
In the list below we have included details on a variety of dedicated ground station network providers who can help you take advantage of their network for communication with your spacecraft.
Within the network of ground stations, satellite operators can usually choose to use dedicated single stations or to downlink over many stations based on their requirements. This enables setups to be optimised in terms of capacity, latency, data transfer path, and cost-effectiveness.
---
Satsearch member Leaf Space is an Italy-based company pioneering the concept of ground segment-as-a-service in the modern market. Leaf Space offers access to their managed ground network in two services:
Leaf Line – a shared ground station network of globally-standardised systems that enables satellite operators to flexibly access high-quality ground facilities at low costs.
Leaf Key – a customised ground solution tailored to a client's individual needs. Leaf Key solutions can be designed to cope with the most challenging requirements for latency, capacity, data transfer paths, and cost-effectiveness.
Leaf Space also offers a free satellite radio integration service and has developed partnerships with various businesses and organisations to expand the capacity and capabilities that can be offered to its clients. You can find out more in our recent member spotlight article on the company here.
---
Norwegian company Kongsberg Satellite Services (KSAT) has offered ground station services and solutions since 1968. Today KSAT offers a global network consisting of more than 170 remotely-controlled antennae situated in more than 20 individual sites around the world. KSAT's primary focuses include maximising speed and availability, particularly in Earth Observation applications.
KSAT offers the ground segment service KSAT Lite – a global network of small-aperture communication equipment and facilities designed for scalability and versatility and featuring an optimised scheduling system to maximise availability. KSAT Lite supports the following Satellite-to-Earth (downlink) and Earth-to-Satellite (uplink) communication options:
UHF downlink and uplink
S-band downlink and uplink
X-band downlink
Ka-band downlink
---
SSC is a global provider of space solutions including launch services for rockets and balloons, and engineering assistance for space missions. SSC also operates one of the largest civilian ground station networks in the world.
Through the SSC Infinity service, SSC provides access to a variety of flexible communication services with communication options optimised for small satellites in Low Earth Orbit (LEO).
Ground stations are situated at several strategic locations around the world enabling frequent satellite contact for telemetry, command and data download purposes with low latency data recovery. Standardised configurations involving pre-qualified radios and limited mission configurations, versatile web and API access for pass scheduling, and automated rescheduling across the network all help keep operations simple and costs low.
---
A spin-off of the Korea Aerospace Research Institute (KARI), CONTEC provides a suite of services to satellite operators and other space businesses around the world. This includes advanced and intuitive web-based access to the company's global ground station network CONTEC-ONE.
CONTEC-ONE has locations in North America, Europe, Africa and Asia which together are able to provide a high-level of monitoring for spacecraft. The ground stations can be accessed using the internet where missions can be arranged in a few simple steps, and the facilities possess VHF, UHF, S-Band for TT&C and X-Band high-performance receivers for high data rate reception.
---
Sfera Technologies has developed the HomePort platform – a software solution that enables satellite operators to create a virtual ground segment for their mission by renting station capacity on a real-time marketplace. HomePort then automatically routes the satellite data from the stations straight to the cloud for processing.
This has been designed to enable satellite operators to continuously optimize their ground segment as new capacity becomes available: it is possible for any station with relevant capabilities to join HomePort and offer its services without specific hardware or brokerage. For commercial purposes the HomePort ground segment offers two main types of station rental: per pass or per minute.
---
ATLAS Space Operations runs an innovative ground segment network that utilises a software-centric, cloud-based approach. Called The Freedom™ Ground Network, the network is designed to provide a high data-flow, low-latency option for satellite operators.
ATLAS' software-driven network consists of 21 operational and planned antennae, each in a carefully planned location. Both shared solutions and fully dedicated antennae are available, and the company offers a streamlined solution to enable customers to gather more data, faster.
---
BridgeComm, Inc. is developing a global network of optical communication ground stations. The network will support complementary fixed and mobile terminals and be designed to offer rapid point-to-point data transmissions via beams of light that connect telescopes using low-power, safe, infrared lasers in the terahertz spectrum.
---
The Libre Space Foundation has developed an innovative open source ground station network known as satNOGS. The satNOGS network enables users all around the world to participate by building and operating their own simple ground station setups. A basic ground station can be built using commonly available commercial-off-the-shelf (COTS) components and can consist of a single, static omnidirectional antenna or a more complex arrangement with multiple movable antennas.
Low Earth Orbit (LEO) satellites are the primary focus and VHF and UHF bands are well covered, though satNOGS can be extended to other bands. The network is developed using open source practices and modular architecture to enable web-based remote access and flexible design options that meet a wide variety of user needs. Click here to find out more about satNOGS including what it takes to build your own ground station.
---
Ground station capacity aggregators
The basic difference between dedicated ground station network providers and capacity aggregators are is the latter are primarily looking to make available the spare capacity on legacy antennae already installed around the world.
There are a number of traditional industry players and space agencies who have installed ground stations over the last few decades and have been using them to operate their own space assets. In many cases these systems are completely or partially out of use, but are still in full working order and more than capable of meeting the needs of satellite operators.
The aggregators provide an opportunity to benefit from the spare capacity on these antennae and may also offer to install new dedicated antennae alongside to make up for the communication requirements.
The list below includes a variety of ground station aggregators and services available on today's market:
---
The StellarStation platform links satellite operators to antenna owners so that spare capacity and idle systems can be used and monetised. The cloud-based software enables antenna owners to earn credits when their system is used that they can then spend on access to other ground stations. Users without an antenna can use any compatible station in the network, with pay-as-you-go billing and no upfront costs.
---
The RBC Signals Global Ground Station Network is another aggregation option for satellite owner/operators wishing to take advantage of an existing ground segment infrastructure. Antennae and ground station owners have the opportunity to earn extra revenue by monetising unused capacity as part of RBC Signals' worldwide network.
---
The Amazon Web Services Ground Station service enables satellite owners to access to fully managed ground segment services for applications including weather forecasting, surface imaging, communications, and video broadcasts. Through their advanced ground station network Amazon gives access to AWS services and the AWS Global Infrastructure, including a low-latency global fibre network located where data is downlinked into the AWS Ground Station.
---
Another emerging ground segment service formulation in the modern market is the concept of Mission Control as a Service (MCAAS), pioneered by companies such as Spaceit.
Spaceit's MCAAS offer aims to provide a one-stop solution for satellite-ground communications that is flexible and scalable enough to meet the changing demands of satellite operators looking to provide the highest levels of service and performance for their clients.
The service involves access to a global network of ground stations and use of a cloud-based Mission Control System (MCS) that includes:
Telemetry handling,
Payload data delivery,
Satellite command delivery,
Binary data exchange,
Integration with ground station networks worldwide,
Orbit prediction, and
Contact time planning, booking and usage time optimisation.
---
Conclusion
The ground segment is your critical link to space assets that have taken so much time and effort to build, test, launch and operate successfully.
For many space applications the quality of the ground segment is also crucial to defining the overall value of the service that can be offered to clients and end-users.
As the space industry grows and barriers to entry lower for new stakeholders, innovative services such as ground network owners and aggregators could have an increasingly important role to play.
We're looking forward to seeing how this sector progresses!
Thanks for reading! If you would like more information or any further help identifying a ground station service provider for your specific needs, please file a request on our platform and we'll use our global network of suppliers to find an option.
Please note that copyright and ownership of all images used in this article lies with the companies listed in the post and images are intended to be included under fair usage principles. To comment on or dispute any usage please contact [email protected] and we will respond as soon as possible.