This article on NewSpace in Latin America was developed in collaboration with the Ecuadorian Space Agency (EXA), a participant in the satsearch membership program.
It includes a discussion of Latin America's position in the global industry along with a deeper case study investigation into two example companies from the region; EXA and Satellogic.
---
In recent years the space economy has grown at a rapid rate. According to the Space Foundation 2018 Annual Report; in 2017 it totalled USD 383.5 billion worldwide and it is projected to keep growing.
In addition, the report highlights that during 2017 there was a 7% increase in orbital launch attempts around the world, a 100% increase in the total number of spacecraft deployed and a 200% increase in the number of commercial spacecraft deployed.
As this trend continues it is reminiscent of what transpired with the aviation industry around 50 years ago. After several years of heavy regulation and the sector being dominated by a few airlines, 1970s deregulation and lower costs resulted in a huge increase in competition. This brought in new carriers and routes, leading to an increase in passenger numbers that built the multibillion-dollar industry that connects the world today.
We're see the same pattern unfold right in front of our eyes with the rapid privatization and commercialization of the space sector. A new age of space exploration is emerging; one that is no longer dominated by few countries with large and established space programs, but rather by a large group of private companies, startups and other entrepreneurs that are ready to take the next steps to push the boundaries of humanity while also benefiting and profiting from space. This is known as "NewSpace".
---
Beyond the traditional powers
NewSpace is opening the doors for other regions and countries, aside from the traditional dominant player of the United States of America, to take a leap of faith and start shaping the future of space exploration.
These nations now have the potential to become a driving force, innovate, and act, or else they risk the chance of missing out on the financial and social benefits that the NewSpace sector provides.
This is particularly true for the Latin American region where space exploration has always been thought of as something of a luxurious enterprise. For a region comprised mainly of emerging economies, government run and financed space agencies have always been a difficult option, as funds and resources are primarily allocated to priorities such as healthcare and education.
Although these priorities are perfectly valid of course, not taking part in the NewSpace industry does further the position of Latin America as an 'underdeveloped' region. Privatization and commercialization of space technologies in the growing, connected global market is therefore key for other private and civilian enterprises, to take the burden off the government and immerse their respective countries in the NewSpace era.
A strengths, weaknesses, opportunities and threats (SWOT) analysis on greater participation in the NewSpace industry in Latin America was performed in order to better characterize the prospects for the region, considering the historical, industrial, and political realities that it faces. This analysis also sets a roadmap for NewSpace integration of new actors, indicating where they can optimize their efforts and where they should be careful.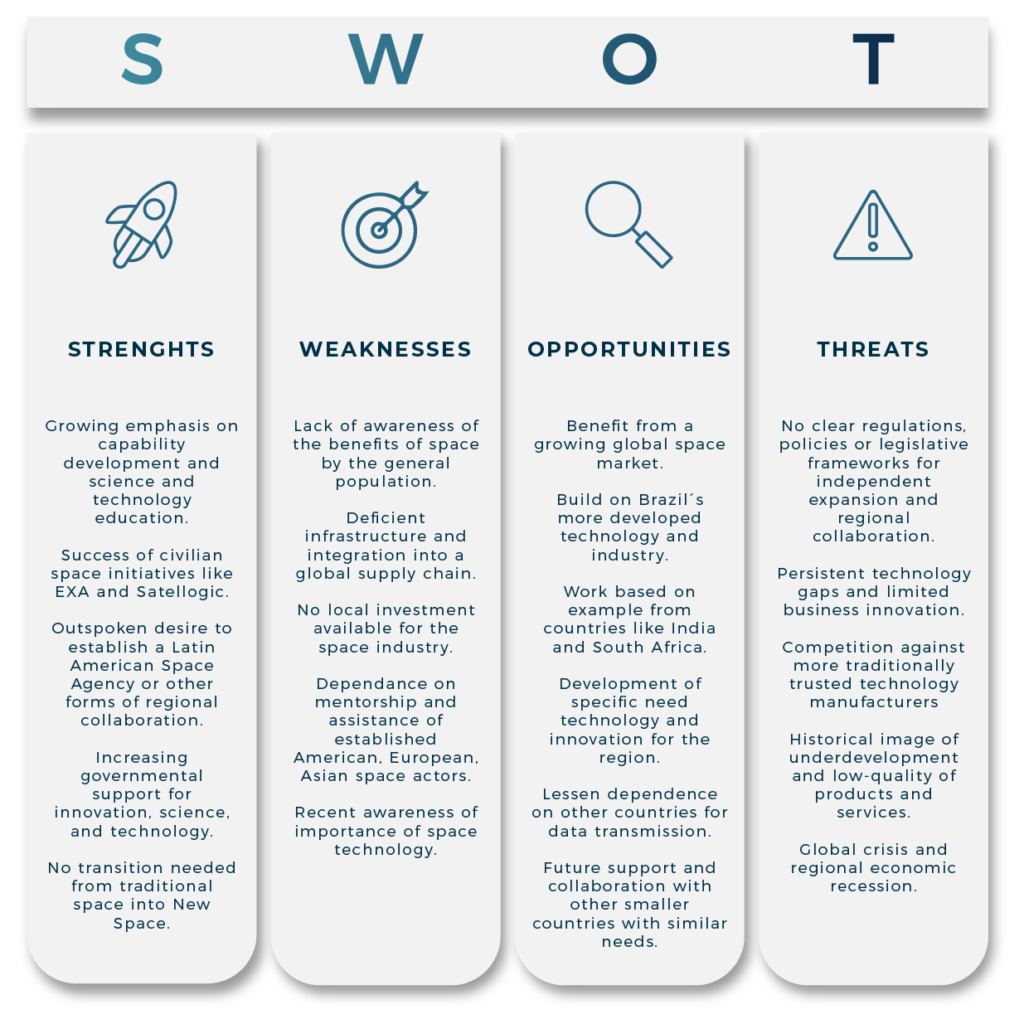 Image provided courtesy of the Sideralis Foundation.
---
Companies active in NewSpace in Latin America
Two entities, EXA and Satellogic, have emerged as leaders in the region, proving that even for companies coming from developing countries, it is possible to be part of the global space market. These companies are an effective case study showing that achieving NewSpace integration in the region is possible.
The Ecuadorian Civilian Space Agency (EXA) is a not-for-profit, non-governmental institution that follows a civilian space exploration model. It has become established as Ecuador's first space agency and is tasked with executing the nation's space program.
Satellogic is based in Argentina and is the first vertically integrated geospatial analytics company in the country.
Both EXA and Satellogic were responsible for the conception, design, and manufacturing of their first and second national CubeSats; NEE-01 PEGASO and NEE-02 KRYSAOR for Ecuador, and CubeBug-1 and CubeBug-2 for Argentina. These satellites served as effective technology demonstrators that now drive the commercialization of proprietary technologies in the case of EXA, and the provision of Earth Observation and analytics services in the case of Satellogic.
The sections below include more information on each of these businesses.
---
EXA – helping Ecuador join the list of countries with space programs
As a research and development institution EXA has trusted CubeSat.Market, a commercial space company, with the promotion, marketing, and commercialization of its space products.
These products range from power systems to all-in-one EPS, OBC, and SDR systems. Find out more about this portfolio here.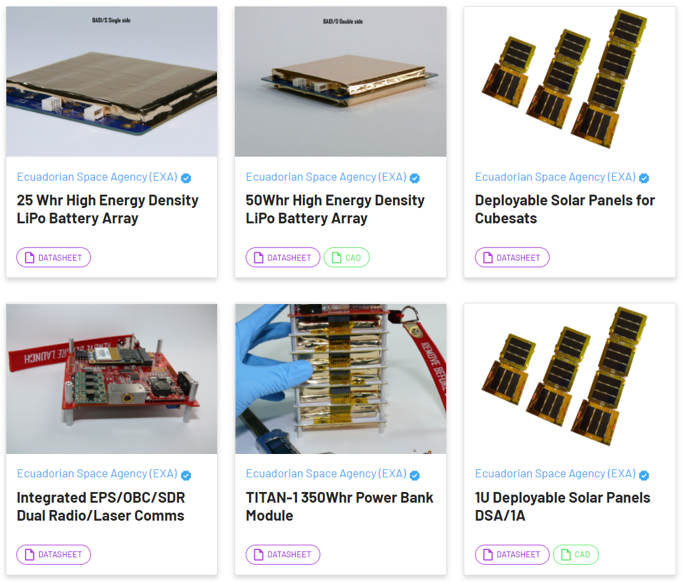 EXA´s products have been chosen by several regional and international partners to fly in different missions to Earth's orbit, to the moon and beyond.
One of these clients is the Irvine Cubesat STEM Program which is developing a fleet of 12 satellites with EXA as its primary supplier. Another client is the Universidad Nacional Autónoma de México (UNAM) that is developing its very own K´OTO spacecraft with the EXA spacecraft bus at its core.
In addition, EXA has developed a laser communication module for CubeSats capable of transmitting up to 100 mbps at a maximum power of 25 Watts. This module is looking to transform how communication is performed from space to ground and in-orbit, particularly between satellites in a constellation.
EXA is an excellent case study into how a Latin American country such as Ecuador can lead by example, producing commercial technology for the global space market while bringing the whole region along into NewSpace.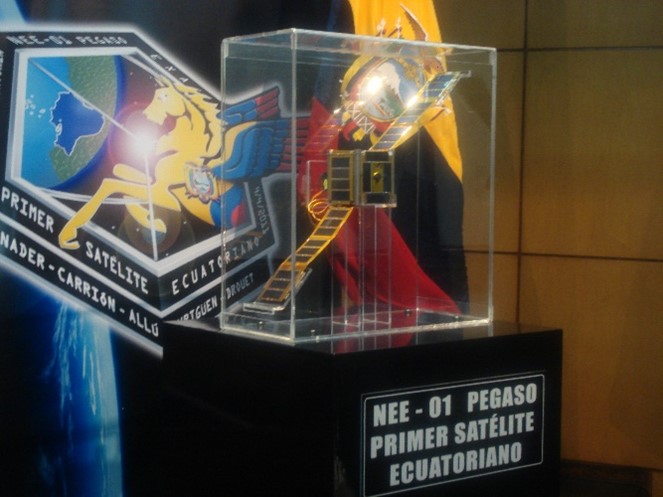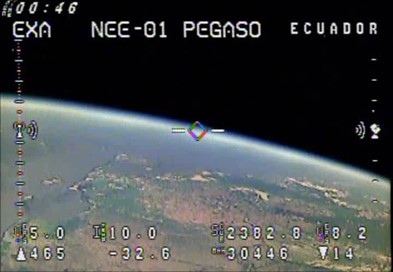 An Image of NEE-01 PEGASO, Ecuador's first CubeSat, and sample data from the mission (images courtesy of EXA).
---
Satellogic – global growth from Argentina
Satellogic has grown into a multinational company with offices and clients all over the world. They are currently building a 60-satellite constellation that will be able to remap the entire planet each week, providing customers with high-resolution images and processed analytics that will allow for daily decision-making support.
This constellation is made possible due to the creation of the NewSat microsatellite, a small, light, and inexpensive platform that carries both a sub-meter resolution multispectral imaging instrument and a 25-meter resolution hyperspectral camera.
Since 2016 Satellogic has launched 18 NewSats, with significant improvements generation to generation, totalling 21 spacecraft in orbit to date. Satellogic has also been recognized for innovative space business solutions with its dedicated satellite constellations and AI-based geospatial analytics services.
These achievements make Satellogic an excellent example of how ideas and services originating from Argentina and Latin America are capable of revolutionizing how we think about space.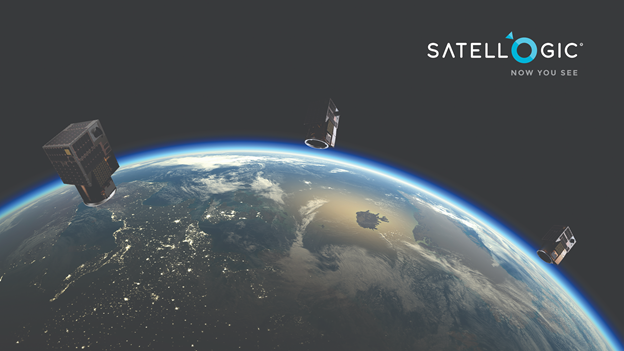 Image courtesy of Satellogic.
---
The future of NewSpace in Latin America
In August 2020 the International Academy of Astronautics (IAA) conducted the 4th IAA Latin American Cubesat Workshop in which, on its last day, it organized a CubeSat Industry session. In this session many Latin American companies, and startups, including Satellogic and EXA, through Cubesat.Market, showcased products and services paving the way for integration of others in the region into NewSpace.
Some of the presenters included the University of Chile, EMSISTI, ISI-SE Senai, Orbital, CRON, Fibraforte, HORUSEYE, and Opto S&D. These companies, ranging from new small startups to large established firms, are creating satellite systems for many different applications, from attitude and determination actuators for CubeSats to solar panels, and fuel and oxidizer tanks for large spacecraft.
This session showed the wide availability of space innovation in the region and inspired the possibility of future collaboration, and larger regional projects.
Latin America may be historically constrained as an underdeveloped region in global terms, but these case studies show that a few private institutions are leading the way, setting an example of what is possible, expanding the state-of-the-art, proposing innovative business models and not just joining the NewSpace era, but also becoming a driving force for how it is going to continue to develop in the future.
These companies hope to show that it is possible for Latin American space companies to achieve such success, all while bringing the financial and social benefits of space for all its people.
---
Thank you for reading. In future articles we hope to discuss the space industry in Latin America on a country-by-country basis, taking an even more in-depth look at the progress and achievements of businesses and organizations. If you would like to be informed of when these are published please sign up to our mailing list today.
---
References:
Barroeta, Belen, et al. "Innovation and Regional Specialization in Latin America." European Commission Joint Research Centre (JRC), 2017.
Mendelson Forman, Johanna, et al. "Toward the Heavens Latin America´s Emerging Space Programs." Center for Strategic and International Studies CSIS, 2009.
Pillai Rajagopalan, Rajeswari, and Narayan Prasad. "Space India 2.0 Commerce, Policy, Security and Governance Perspectives." Observer Research Foundation, 2017.