Deployable space components, structures and sub-systems can be mission critical or at least play a significant role in increasing the functionality of vehicles, small satellites, and other hardware.
This article discusses some of the applications of deployables and gives an introduction to deployables manufacturer DCUBED (Deployables Cubed GmbH).
DCUBED is a paying participant in the satsearch membership program and this article was produced in collaboration with the company.
---
An introduction to space deployables
In general, the term deployables refers to foldable structures that are packaged small during launch and are then unfurled to their full dimensions once in space.
In satellites, deployables are typically used for sub-systems that require large volumes in space, such as solar arrays, antennas, radiators, baffles, and de-orbiting devices.
Such deployable systems are gaining increasing attention in the NewSpace industry in order to meet more demanding requirements for high functionality satellites that can be packaged into small volumes for launch, to achieve economic launch prices.
The volume, and sometimes mass, savings made for a system can reduce launch costs, particularly for constellations where economies of scale have an impact. Deployables can also bring new capabilities to a satellite, generating a greater volume and/or variety of data with commercial value.
These deployable structures are usually held-down and released using a release actuator such as a pin puller or release nut. A variety of Hold Down Release Mechanisms (HDRMs) are also in common use to perform basic functions in launch vehicles and other spacecraft. For example, sensitively calibrated optical components may be affixed to survive the vibrations of launch, before being released to operate in orbit.
Any deployable system is challenging to design, manufacture, and test, as there is an inherent requirement to be highly reliable during mechanical operations. In addition, due to the role they often play, a failure in the operation of a deployable sub-system can potentially be critical to the entire mission. 
Before we take a closer look at how and where deployables are used in the modern space industry, we will first introduce satsearch member DCUBED (Deployables Cubed GmbH) to give context to their work in this area.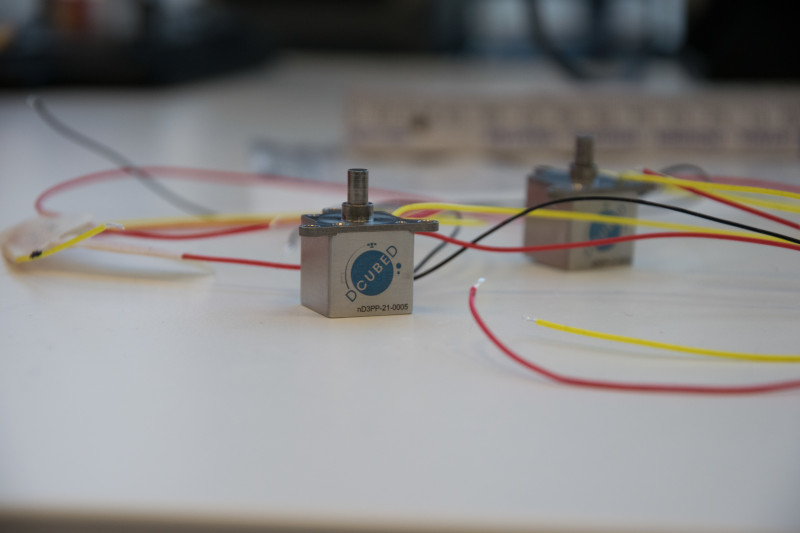 ---
Introducing DCUBED
DCUBED (Deployables Cubed GmbH) is a Munich-based NewSpace company that develops miniaturized release actuators and deployables, specifically tailored to the needs of smallsat and nanosat customers.
DCUBED was founded with a vision to accelerate the utilization of space by creating innovative and user-friendly technologies and has developed a portfolio of actuators and deployables suitable for a variety of use cases in space.
The company's array of technology includes deployable sub-systems for Low Earth Orbit (LEO) missions, but DCUBED is also involved in a variety of Geostationary Orbit (GEO), Geostationary Transfer Orbit (GTO), lunar, and deep space missions.
The firm has an active research and development (R&D) function and has also invested resources in recent years into manufacturing processes and equipment, aimed at being able to standardize production at high volumes while ensuring reliability.
This is an approach we have seen many companies in the NewSpace sector follow, particularly as large constellations are increasingly driving commercial activity. This can often take the form of turning a bespoke product into a commercial-off-the-shelf (COTS) system, suitable for mass production, and was discussed in a July 2021 podcast with DCUBED CEO Thomas Sinn.
In terms of DCUBED's product portfolio, the company's actuator products include the Nano Pin Puller nD3PP and Nano Release Nut nD3RN which feature adaptable interfaces for use with a range of third-party systems. The deployable series of sub-systems includes the on-board monitoring camera, the D3S3 Space Selfie Stick, and a variety of deployable booms.
DCUBED is also working on a deployable solar array for use in nanosatellite constellations, particularly for communications satellites, electric propulsion, or advanced Earth Observation missions that require greater power for data transmissions. The 100W Solar Array is an origami-based folded solar array system designed to fit into a 1U form factor and to be used as a single unit in order to ensure a controlled folding into the deployment box by reducing the assembly steps.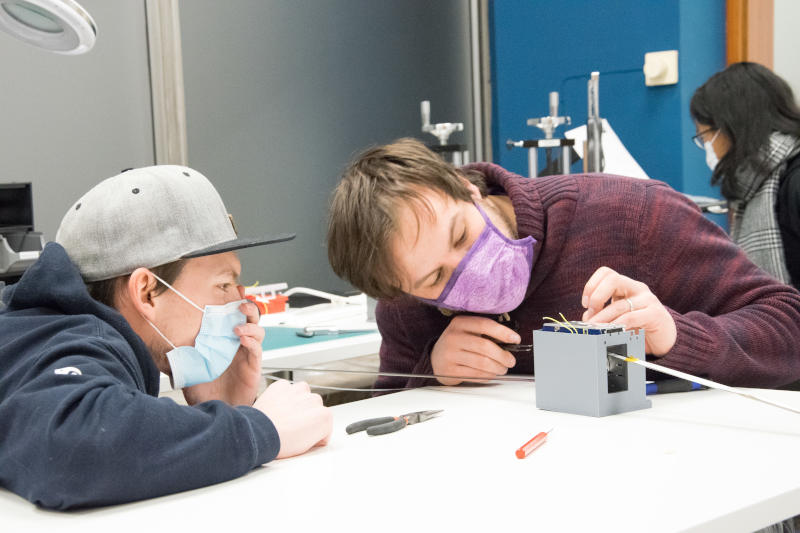 Developing this suite of products has given DCUBED widespread exposure to many forms of deployable technology innovation and use cases, many of which are summarized in the next section.
---
Applications and flight heritage of deployables
In this section we take a look at three key areas of space-based deployables, along with some examples of individual systems and technology demonstrations from DCUBED's work.
Spacecraft
Hold Down Release Mechanisms (HDRMs) are widely used in launch vehicles, satellite deployment systems, satellites (both big and small), and planetary landers and rovers.
They can be used to deploy spacecraft sub-systems or detach satellites from the rocket (e.g. opening the door of a CubeSat / PocketCube deployer) for operation. DCUBED's Nano Pin Puller nD3PP and Nano Release Nut nD3RN are examples of actuators that can be used for such functions.
In addition, HDRMs are required in order to assist in the deployment of planetary landers or depositing other payloads on surfaces. DCUBED is currently working with a cross-disciplinary team on the deployment mechanism of a lunar rover for example.
HDRMs operating on spacecraft have to be highly reliable as they are usually crucial to mission success. They can also be set up to operate autonomously or only upon receipt of a command signal, and redundancy is usually built in to ensure there are options to operate the components in the absence of the correct trigger.
Satellite launch and deployment
HDRMs and other forms of deployable components play two key roles during launch and deployment – the first is to affix, and then release, satellite components or sub-systems during launch, and the second is to enable the deployment of satellites from launch vehicles.
As an example of the first use case, DCUBED is working on an asteroid observation mission with the European Space Agency. The spacecraft includes a high power optical system that will observe and collect data on the asteroid.
Optical payload lenses are precision-calibrated but movable parts. During launch, deployment, and transit to the correct location, the payload will need to be secured in order to protect against damage due to vibration.
The system will then need to be released at the correct time, and again will require a deployable actuator that is highly reliable and will operate effectively throughout the mission's lifetime.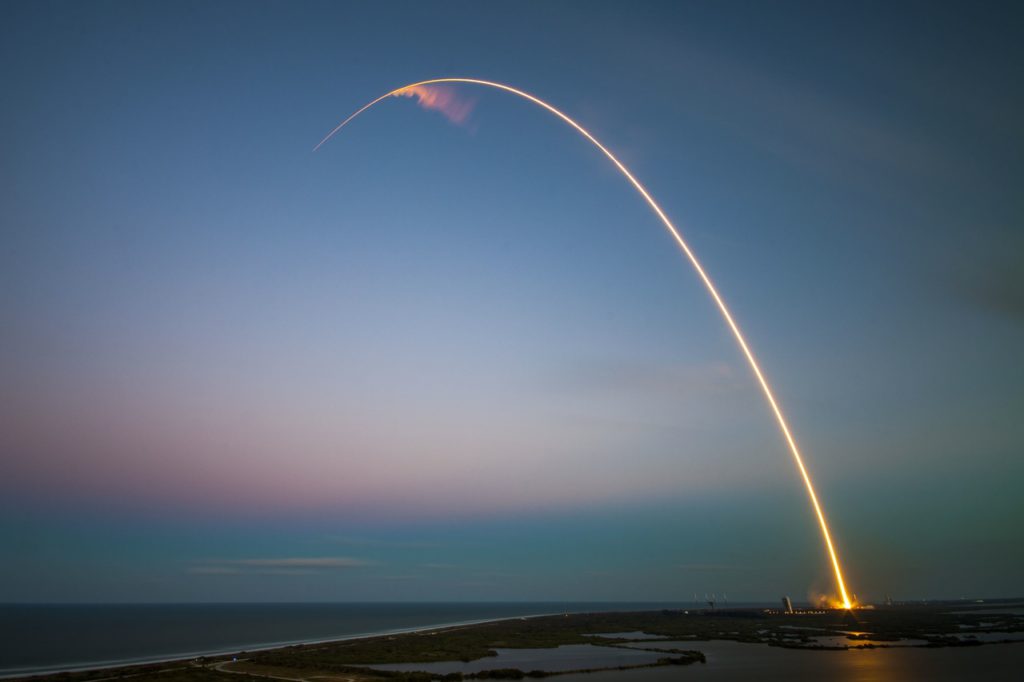 In-orbit sub-systems
Deployable sub-systems can bring a huge range of new functions and performance enhancements to satellites of almost any size. Below are a number of deployable sub-system examples along with some details from DCUBED's work:
Solar arrays
With advancements in computing power and artificial intelligence (AI) capabilities, there is a growing need for higher power input on-board small satellites. Deployable solar arrays are an emerging NewSpace solution that could help address this requirement.
DCUBED is currently working on the PowerSat mission – an In-Orbit Demonstration (IOD) of a high power CubeSat solar array for the use of space power applications, scheduled for launch in Q1 2023.
This mission is part of the NASA Educational Launch of Nanosatellites (ELaNa), in partnership with California Polytechnic State University (CalPoly), and DCUBED will be supplying their deployable solar product PowerCube – a 100W 1U nanosat solar array.

Monitoring devices
Monitoring the health and operational status of a satellite during operation is becoming an increasingly complex yet important task, due to the wider array of systems in use onboard and the greater capabilities a satellite can have while in orbit.
In addition, self-monitoring cameras and other devices can provide an excellent marketing opportunity; capturing visual evidence of a satellite in actual use to share with potential customers.

DCUBED's Space Selfie Stick D3S3 is an excellent example of such a system, and it was launched on an IOD mission as part of the SpaceX Transporter-3 flight on the 13th of January 2022.
---
Integration and testing of deployables 
As mentioned above, deployable systems often play such a crucial role in space missions that they require very rigorous testing and qualification before use
In general, the European Cooperation for Space Standardization (ECSS) and NASA's General Environmental Verification Standard (GEVS) are used as the standards for space qualification tests to which deployables are expected to adhere.
Deployables are subjected to vibration and shock tests to simulate the conditions that will be experienced during launch. They are also tested to withstand thermal cycles in a baking chamber to ensure they will still hold and/or deploy effectively while experiencing extreme temperature conditions.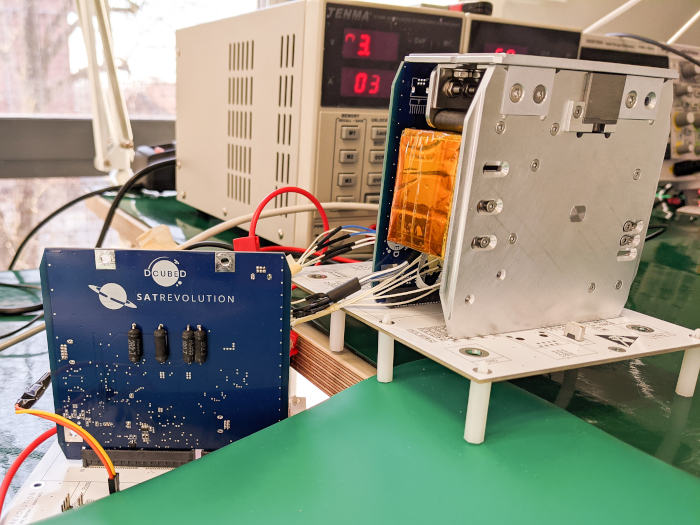 Deployables are also tested under microgravity simulations to prove their ability to unfold into the required dimensions in space.
The testing procedures and requirements are very stringent and often may result in a heavier structure than necessary. With increased access to space in the future, the lifetime of the satellite can be expected to be reduced, resulting in possibly relaxing some of these requirements.
DCUBED is not only working on developing cutting-edge deployable technologies but is also contributing to standardizing testing procedures of deployables to try and make them more suitable for the COTS deployable products.
For more on this topic please listen to our October 2021 podcast with DCUBED CEO Thomas Sinn. 
---
To find out more about DCUBED's expertise and the range of deployable systems and components available, please click here to view the company's satsearch supplier hub.