This article is a profile of ground segment-as-a-service company Leaf Space, a participant in the satsearch membership program, and was produced in collaboration with the company.
The history of Leaf Space
Leaf Space was founded in 2014 by Jonata Puglia, Michele Messina and Giovanni Pandolfi, building on their combined expertise in space technology and engineering.
Prior to founding the company they had all played a leading role in the Milan-based non-profit organisation Skyward Experimental Rocketry which helped students design, build and launch experimental rockets as well as promoting space education.
In 2016 the company raised over $1 million to fund a telecommunications service dedicated to smallsat operators. Italy-based VC firm RedSeed Ventures led the round along with various other private and institutional investors including Como Venture, Key Capital and PoliHub.
Since its inception Leaf Space has focussed on developing the highest quality ground station services and technology with the goal of creating the most efficient and valuable ground segment solutions available on the modern space market.
To date, ground station services have been successfully launched and developed in several countries including Italy, Lithuania, Spain, and Ireland. In addition, in 2017 Leaf Space partnered with Solenix GmbH to combine their mission control system with Leaf Space's ground segment services.
In 2018 Leaf Space was awarded 1.3 million Euros by the European Commission under the Horizon 2020 research funding framework to further develop its technology. This was followed by an agreement with Astrocast to provide ground station solutions for its 64-unit global IoT network.
2019 has also seen Leaf Space continue to reach new commercial milestones, discussed further below, as well as gain further recognition through winning the "Expanding in China" special prize at the Italian Master Startup event in Rome.
Products and services
Leaf Space is pioneering the concept of the ground segment-as-a-service for forward-thinking satellite operators around the world.
Leaf Space believes that operators can benefit from increased performance, higher availability and lower costs by working with a trusted, reliable and expert partner in the ground segment area, rather than building and managing their own systems.
To help their clients realise these benefits, and ultimately provide better results for their own customers and end-users, Leaf Space has developed two flagship services:
Leaf Line – a shared ground station network that helps satellite operators access high-quality ground station services, at lower costs, through a flexible subscription model. Leaf Line allows operators to:
Perform missions that require high contact time and low latency, such as in-orbit demonstrations (IOD),
Access the network in a flexible manner, with anytime upgrades available,
Benefit from immediate access whenever it is needed, and
Use globally-standardised systems that are developed and deployed in a consistent manner to ensure reliability.
Leaf Key – a custom solution enabling bespoke communication with an operator's chosen space assets. Leaf Key is tailored to each client's individual needs and can be designed to cope with the most challenging requirements for latency, capacity, data transfer paths, and cost-effectiveness.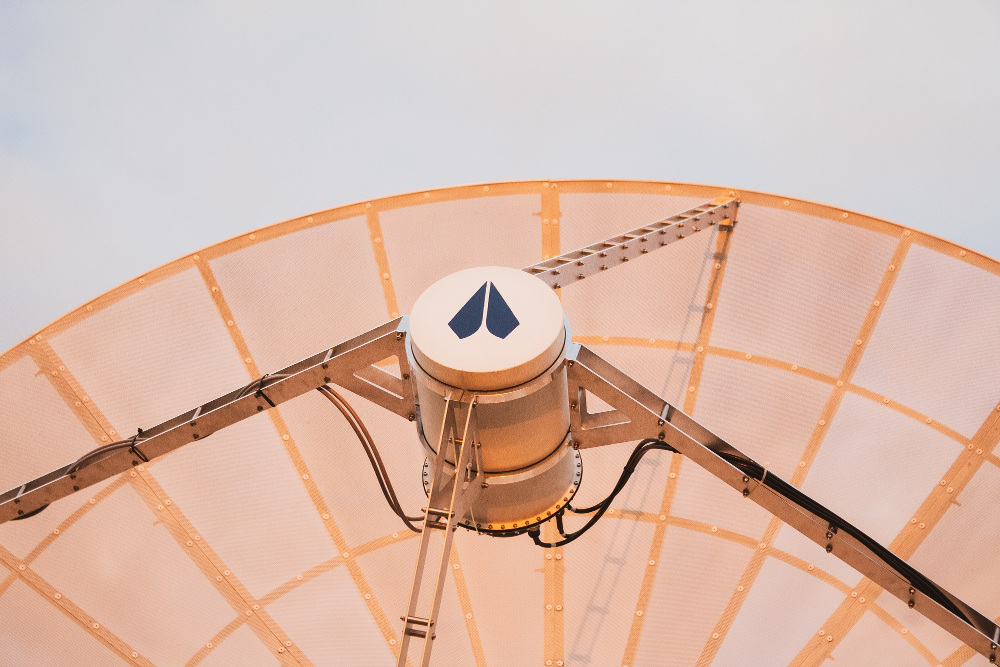 Leaf Key turns ground segment operations into predictable assets with clear and transparent ongoing costs. Leaf Space deal with all resourcing, supply chain logistics and deployment needed to get things up-and-running and are then on-hand to provide expert advice and support through the entirety of each contract.
By offering high-quality ground segment services in an efficient, scalable and cost-effective manner Leaf Space has built a formidable business over the past few years.
Major milestones
To find out a bit more about the company's progress we spoke with Taylor Silvio Dorigatti, Business Developer and Sales Engineer, about Leaf Space's biggest milestones so far. He told us;
"Our Leaf Line service has now been active for more than 2 years and we've built on our strong early performance as a business."
"In 2018 we developed and deployed a ground station for Fleet Space Technologies' Australian operations centre in just 6 months and then provided LEOP services for two test satellites launched on Falcon 9 SSO-A and PSLV-C43."
"Earlier this year we also launched a free satellite radio integration service covering a number of popular systems. By pre-integrating the installed radios on smallsats we enable our customers to simplify the setup and deployment process, for a faster result at a lower cost."
"We currently have the potential to grow further in the next few years. A number of smallsat manufacturers and operators are very interested in our service concept and we're working on expansion in the US and far East markets."
The road ahead
Leaf Space is in a strong position to capitalise on its growth to date and recently announced two significant new contracts at the 33rd Annual Conference on Small Satellites demonstrating this progress:
A new framework contract with deployment services provider D-Orbit to integrate the launch and early orbit phase (LEOP) ground segment support into its InOrbit NOW service suite for the NewSpace market, and
An MoU with Alén Space to work on the seamless integration of Alén Space's satellite platforms, satellite radios and Mission Control Software with the Leaf networks.
As Taylor explains:
"Over the next 12-18 months we intend to expand our Leaf Line network and increase our delivered capacity. We also have a new Leaf Key service order for Astrocast coming online and a number of other ongoing contracts to close and fulfil."
"We're also excited about building on the collaborations, synergy and integrations that we're developing with other smallsat technology and service providers. Mainly we intend to expand the portfolio of pre-integrated radios and continue to improve our systems' compatibility with third-party mission control software."
"Finally, a key part of our mission is to increase awareness of the importance of the ground segment for smallsat missions and communicate our vision for ground segment-as-a-service."
Helping our members achieve their commercial goals and share their unique vision and story with the world is an important part of our work here at satsearch and we are very pleased to partner with Leaf Space to help them achieve this.
Working with satsearch
We asked Taylor about what attracted Leaf Space to list their services on the satsearch platform and join the membership program, he explained:
"The satsearch platform helps us to increase our exposure in the global marketplace and become a part of an active smallsat community."
"We also benefit from close relationships with the team members and the availability of satsearch to work together in order to reach defined milestones."
The future for the industry
To help our community stay on top of the industry, and to delve deeper into what is driving our member companies, we ask representatives what they believe are the most important emerging trends. Taylor explained;
"One of the key trends driving growth in the smallsat sector is, of course, the development of satellite constellations."
"But alongside this we're also seeing a lot of interest and opportunity as a result of demand for in-orbit demonstrations (IOD) and in-orbit validation (IOV) missions."
"In some ways the smallsat sector finds itself at a turning point between IOD and IOV missions and the large commercial constellations, so there is a lot of potential for growth and business.
"We're also seeing changes to licensing procedures that operators need to keep track to ensure they don't disrupt plans."
"Finally, we believe that our work developing the concept of ground segment as-a-service is starting to become a bit of a trending topic for smallsat operators due to the new opportunities and capabilities we can provide. It's an exciting time here at Leaf Space!"
In the coming weeks and months we'll be taking a closer look at Leaf Space's commercial offering, as well as sharing more information about other news at the company. In the meantime, for more details on the company and the Leaf Line and Leaf Key services, please view Leaf Space's page on the satsearch platform.
Finally, if you would like to find out more about the Satsearch Membership Program, and discover how your business can benefit from the support we are offering to companies like Leaf Space, please click on this link.