Last week businesses and stakeholders from across the space industry converged on Utah State University for the 33rd Annual Conference on Small Satellites.
Over 3,400 delegates were in attendance (including satsearch CEO Kartik Kumar) representing 1,000 organisations based around the world.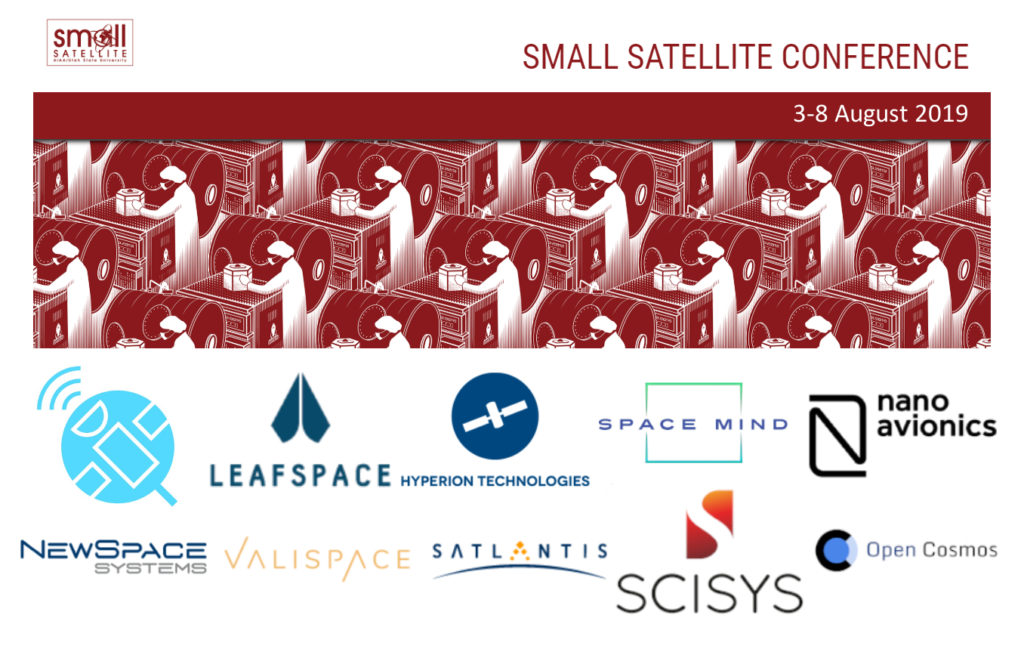 There was a very lively program at the event and it was great to see the growth we're witnessing across the industry first-hand.
The theme this year was Driving a revolution and among the topics high on the agenda were satellite constellations, smarter and more innovative CubeSat technologies, and solutions for delivering more value to space end-users and clients in other sectors.
We had an excellent time and would like to say thank you to all of the companies and delegates who met with us and discussed their own products, services and vision for the sector.
In this post we've put together a short roundup of some of the key news stories from the satsearch community.
Proceedings and key stats
The full proceedings of the event (and past events) are available on the Utah State University website (note that some material may not be available until September 2019).
In addition, here are some of the key statistics, provided by the event organisers:
3,460 total head count
1,000 organizations represented
45 countries
235 exhibiting organizations
20 university exhibits
150 oral presentations
134 poster presentations
383 students
Hyperion launches HiberDrive
Satsearch member Hyperion Technologies announced that it is bringing the world's first 1U Attitude and Orbit Control System (AOCS) to the global market.
Named HiberDrive, the system is developed in partnership with Dawn Aerospace and combines Dawn's high performance green bi-propellant propulsion module with Hyperion's experience in attitude determination and control.
HiberDrive also includes Hiber's automated constellation management software, making this powerful, efficient and intelligent AOCS a global first. Find out more here.
Satsearch signs new member CubeSpace ADCS Solutions
We were very pleased to announce that another new member has joined the Satsearch Membership Program.
South African space technology company CubeSpace manufactures a range of miniaturised satellite components, both as modular and integrated units.
The company also offers a variety of custom options and engineering support to help satellite manufacturers and operators optimise their equipment and services.
You can also find out more about CubeSpace's range of reaction wheels on our product roundup post.
We are very pleased to be working with CubeSpace and look forward to sharing more information with you on their products, history and future plans very soon – stay tuned for more!
Leaf Space announces new contracts
Satsearch Member Leaf Space, an Italy-based provider of ground segment services, made some important announcements at the time of the event.
Firstly, the business released that they have signed an MoU with Spanish satellite service provider Alén Space. The new partnership will explore how best to integrate Alén Space's satellite platforms, satellite radios and Mission Control Software with the Leaf networks.
Secondly, Leaf Space shared news of the signing of a framework contract to integrate their LEOP service into D-Orbit's InOrbit NOW service suite. This will enable customers to find a ground segment solution in the early stages of the mission for an easier and quicker commissioning phase.
SCISYS discusses intelligent constellations
Antonio Rodenas from satsearch member company SCISYS delivered a talk on new and emerging solutions to increase the effectiveness of smallsat constellations.
Entitled How to transform satellite constellations into intelligent swarms he discussed how new data exchange and communication technology, and the self-organising principles that have been developed in other areas, such as in drone technology, are giving satellite manufacturers and operators new opportunities.
Constellation development and management in general was (unsurprisingly) a hot topic at the event overall. The ideas, lessons and capabilities brought in from other fields, such as satellite-satellite smart communications or new production models inspired by the automotive industry, are making for an exciting time in the industry.
Oakman Aerospace announces partnership with ArsUltra
US-based engineering company Oakman Aerospace, Inc. announced that it will be working with Argentina-based ArsUltra S.A. to develop new approaches to modular spacecraft.
ArsUltra develops high-reliability computing systems for space applications and is undertaking a variety of research and development activities in this area.
The partnership will explore new opportunities in the development of modular spacecraft using Modular Open System Architectures (MOSA) along with other standardisation and interoperability constructs. You can read more about this announcement here.
Other insights from SmallSat19
Finally, here are a few other notes and observations from the event:
Constellations are now a major industry driver – as mentioned above, the large satellite constellations currently in development are driving a lot of new industry activity and innovation. The size of the potential commercial contracts on offer for suppliers could be game-changers for many companies, but more than that there is also the possibility of being a part of projects that could change the way we both use and perceive space.
The industry is both growing and diversifying – this was the 33rd Annual Conference on Small Satellites and it seems to get bigger every year. What is noticeable in both this and other industry events we've attended in the past few years is how the pool of delegates seems to come from a wider range of companies and organisations each time. There's no doubt that the number of firms is increasing, particularly startups, but many representatives from academia and other sectors are also in attendance. This can only be a good thing!
The supply chain is opening up in many areas – many businesses at this type of event are only too happy to talk about the benefits and solutions that they provide. But it seems that there has been a bit of a change in the level of transparency they are willing to offer. As the industry democratises businesses are becoming more aware of just how much opportunity there is around the world and in different markets and verticals. But this brings with it the need to communicate more clearly and openly about the value that a company provides, which is something we're also helping our community to achieve.
To find out when both satsearch and our valued member companies are next attending an event, and to book a meeting with us, please go to the events page – please check back when you can as we'll update this regularly.