We recently shared our experiences of the 4th ESA CubeSat Industry Days and the Paris Air Show, that we attended earlier in the summer.
Today we have some notes, pictures and insights from two other recent events:
A high-level brainstorming workshop on the development of better knowledge-exchange approaches to space industry data
A series of presentations on new advanced technologies for space missions developed by the European Space Agency, its partners and others in the field.
Enjoy!
Space System Ontology – Brainstorming Workshop
On the 25th and 26th of June knowledge exchange, systems modelling, engineering and ontology experts from across the industry came together in the Netherlands for this high-level workshop.
The design of modern space technology and missions involves the exchange of huge amounts of data on increasingly short timescales.
Many different stakeholders can be involved, each of which will have a different suite of tools, systems, processes and procedures in place.
In addition, as the space industry democratises and grows internationally, the partners collaborating on any given project are increasingly likely to be based in different countries – probably on different continents.
All of these factors need to be taken into account for each new complex project. In short, we need solutions that enable us to more easily work together on a common dataset.
And that's where ontologies can help.
The event covered a wide range of technical topics. This slide from one of the presentations lays out some examples of the sort of questions that ontology experts are working to answer: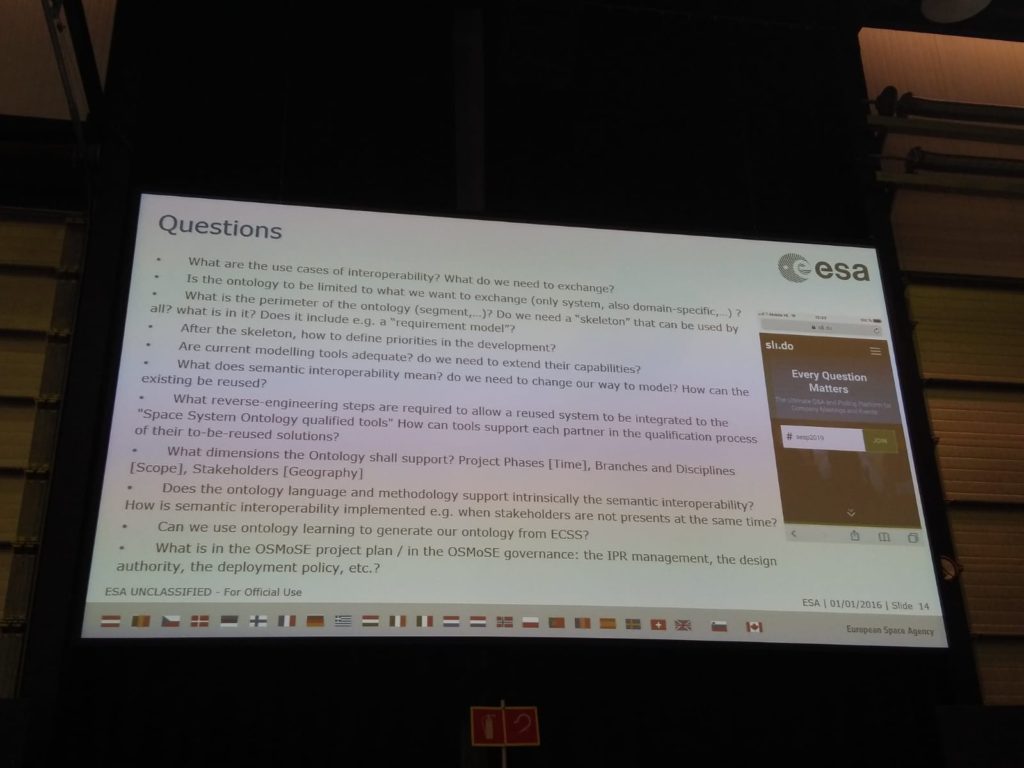 Below we've included some information on our major takeaways from the event as well as details of our own presentation. But first, here are a few selected pictures showing the range of topics discussed:
Our presentation
Our CEO Kartik Kumar delivered a talk at the workshop discussing our own ideas, insights and challenges developing a common set of data standards to describe the vast array of equipment available on the global space marketplace.
The talk was entitled Development of a universal ontology for the global space supply chain and you can see the text of the abstract provided below, followed by a few sample slides – to view the whole slideshow please use this link.
As the global space industry continues to grow, there is a pressing need to standardize the way stakeholders communicate about products, services, technologies, and missions across the value chain. The rapid growth of small satellites over the past decade, leveraging the popularity of the CubeSat form factor, has demonstrated the value of standardization towards reducing cost, time-to orbit, and risk.
An area of research that can help towards ensuring greater reliability & performance, whilst still optimizing for cost and schedule, is the development of a "common language" for space systems. Developing a universal ontology for the global supply chain, on the basis of such a common language, would enable the ecosystem to foster rapid design & prototyping, streamlined Assembly, Integration, & Testing (AIT), and deep insights during mission operations.
We present our on-going effort towards developing a universal ontology for the global space supply chain and highlight examples of how this can help support the next generation of complex space missions.
Key takeaways from the Space System Ontology – Brainstorming Workshop
The workshop was a very technical event that enabled engineers and domain specialists to really get into the detail of what various ontologies and modelling systems are and how they can be best used.
Here at satsearch we've built a supplier and product search engine for the entire space supply chain from the ground up and have been deeply involved in this world for many years, so it was great to work with experts in over-lapping areas of interest.
But regardless of your level of knowledge in this area, the following key takeaways might be useful as an overview of what is being worked on and thought about:
Legacy and proprietary systems that have traditionally been used are too localized and domain-specific to be suitable for modern space industry challenges. Information is regularly lost or misinterpreted and the information models cannot easily be tailored for individual purposes.
Ontologies are meant to improve communication by specifying a set of constraints on a world of information. Their validation and precision are very important and an effective model in a project using ontologies should be thought of as a legal world description that satisfies the ontology.
Model-Based Systems Engineering (MBSE) was a widely discussed topic – this is something we will share more thoughts on in future blog posts.
ESA is currently working on an extensive digitalization program involving design, testing, simulation and agile workflows for improved system engineering. In this work they have found that the best ontology to use is actually nothing if a complete implementation of it isn't available. The point was made that the ontology alone has no purpose, it needs to be translated into an implementation solution for the end user.
Work by researchers from the University of Strathclyde on the development of an ontology for space missions was shared. The aim is to develop an expert system for space mission design. An expert system captures human expertise in a computer program and mimics human reasoning. Please note that this is a project we have contributed to in the past.
Space Engineering and Technology Final Presentation Days (SET-FPDs)
The European Space Agency (ESA) funds, supports and collaborates on a wide range of activities designed to support the space sector across Europe.
The Space Engineering and Technology Final Presentation Days (SET-FPDs) event is part of the work of the ESA's Directorate of Technology, Engineering & Quality which aims to improve the dissemination and exploitation of new space technologies developed in Europe or that can be used in the European industry.
The event was held in our hometown of Noordwijk in the Netherlands and we were able to attend the first two days on the 2nd and 3rd of July.
There was a really interesting collection of technologies shared on the day. Below you can see a few images from some of the presentations delivered and some notes on the event.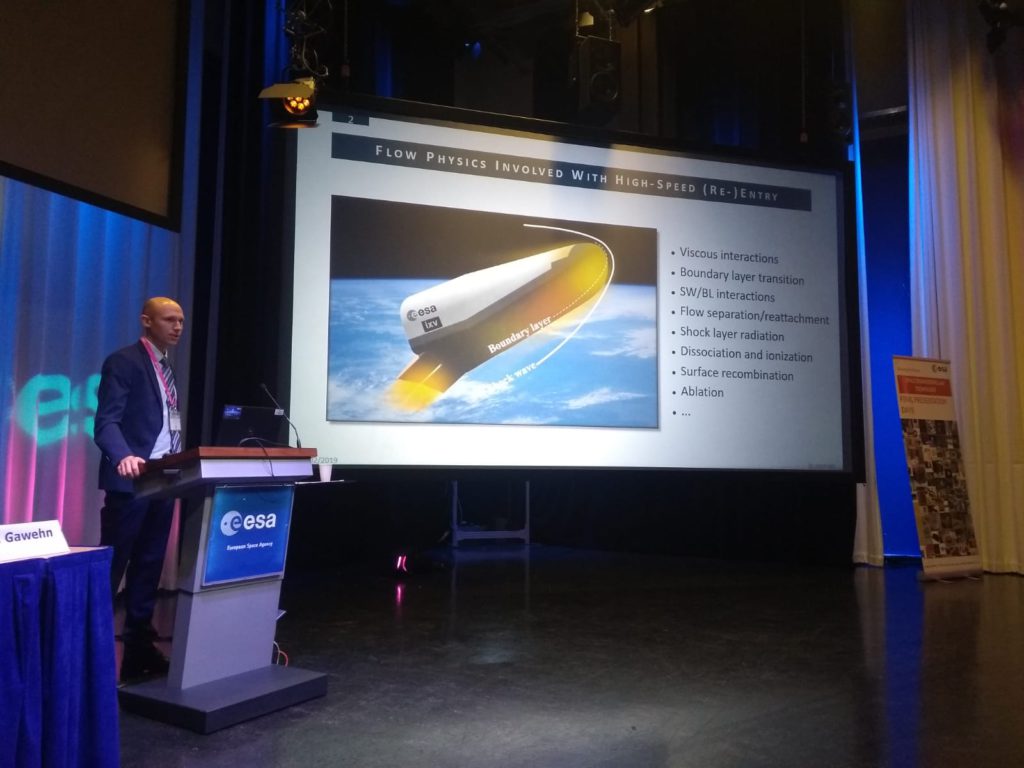 SITAEL, the largest privately-owned space company in Italy, shared details of its advanced propulsion systems that use iodine as a propellant. The company shared results of its compatibility testing showing that iodine can be used safely with 25 other materials commonly found in space technology.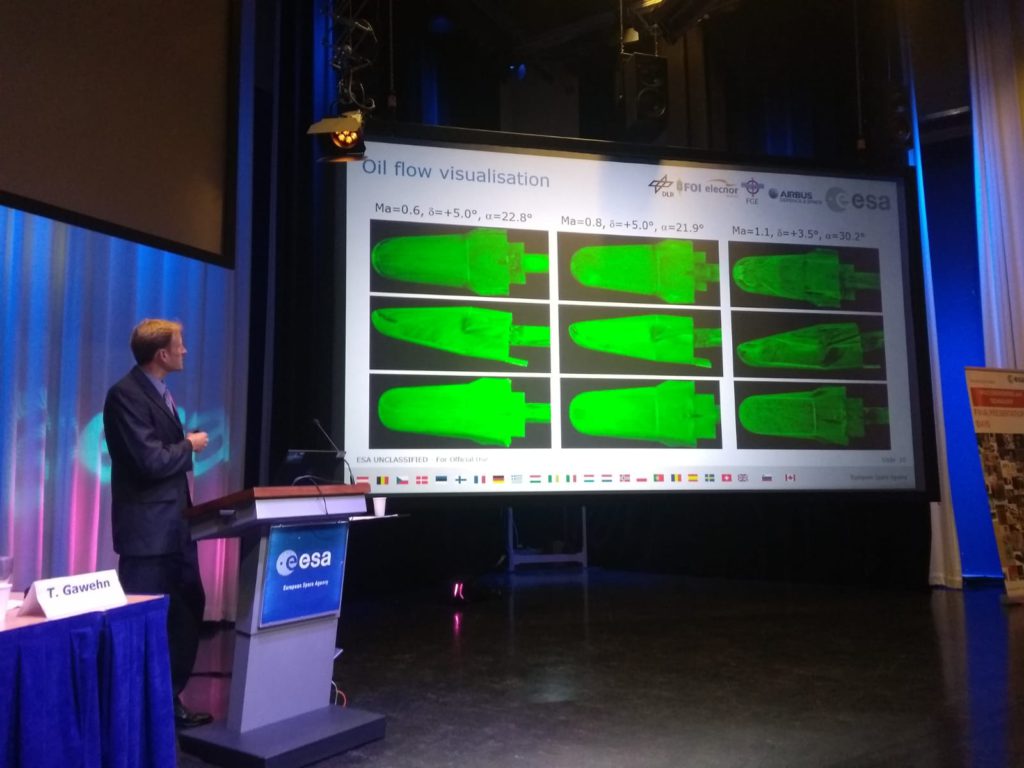 The Longshot facility was presented; a specialist project to investigate reproducing entry and re-entry flow conditions. The facility is now being used for free-flight experiments and the aerothermodynamics characterization of space debris.
The challenge of developing effective space pumps for smallsat thrusters and launchers was discussed. System inabilities can cause cavitation which results in reduced hydraulic performance and an increase of mechanical stress.
A variety of satellite thruster technology was presented at the event, with the benefits and costs associated with electric and chemical propulsion being key areas of debate.
In addition, the plethora of challenges facing launch technology manufacturers were also discussed. Such challenges may be related to cost, weight, performance and reliability, and a number of next-generation launcher projects were presented including:
The Vega-E upper stage
SABRE-enabled access to space
Various reusable launcher systems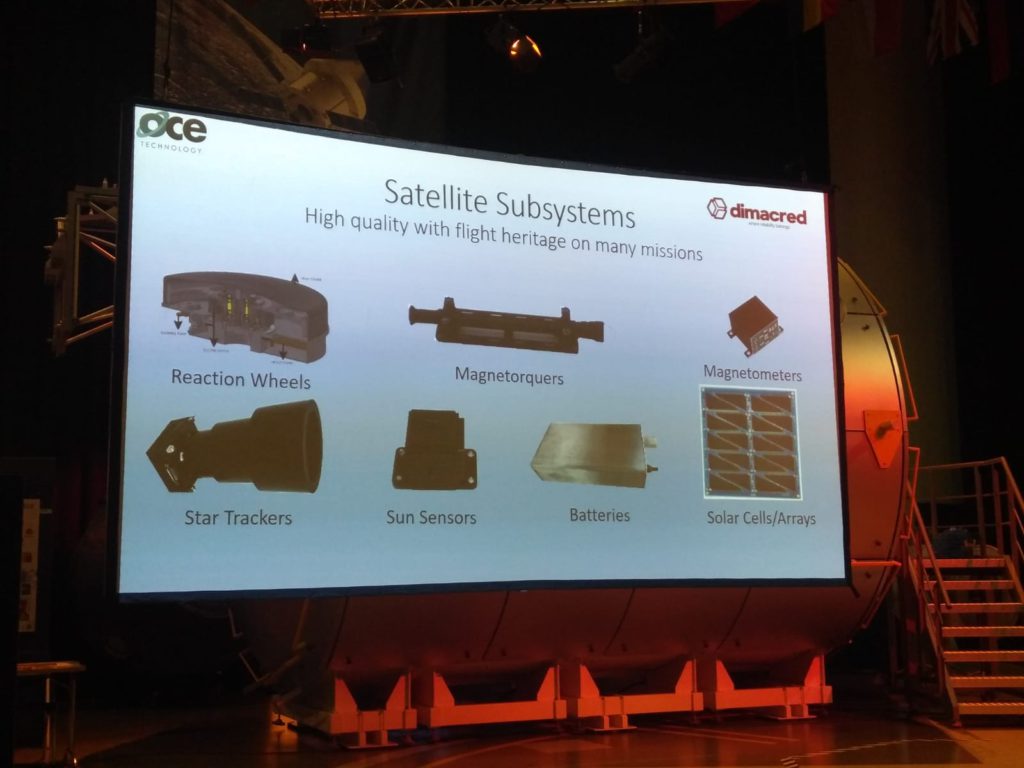 The latest details on framework programs and procurement strategies at ESA were shared, as well as de-risking approaches utilised by the UK Space Agency and other organizations.
Ubotica Technologies presented their development work with partners such as Intel and QinetiQ building AI technology for onboard Earth Observation (EO) data processing for CubeSats.
Many other advanced new technologies were shared at the event and it was great to get an overview of innovation in our rapidly growing sector.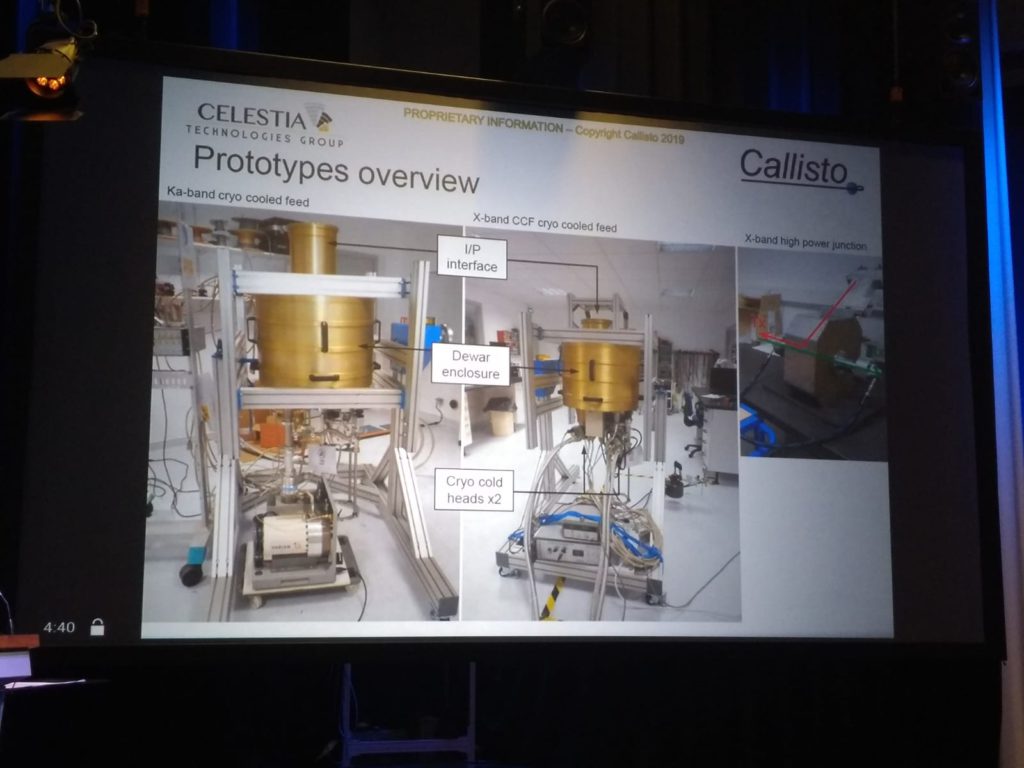 Over the coming months we hope to share with you a lot more detailed information about space technology available on the global marketplace and help this industry continue to democratise and open up.
The next event we'll be attending is the Small Satellite Conference held in Utah, USA on 3-8 August.
If you're attending and would like to arrange a meeting with us, please email [email protected] and we'll get back to you asap.