This article is a profile of Space Structures GmbH, a participant in the satsearch membership program, and was developed in collaboration with the company.
In today's post we meet Space Structures GmbH, a manufacturer of structural components for the space industry, based in Berlin.
Developing light and strong structural hardware
The core competencies of Space Structures lie in the development of high-performance structural components for space.
Developing hardware for space environments is a challenging task. Structural materials need to be able to cope with extreme temperatures, microgravity, and high radiation, not to mention surviving the rigours of the launch itself.
To meet these challenges, Space Structures provides a range of high performance structures, including large spacecraft primary structures, that support their clients' missions.
The products
Space Structures provides space-ready components made from metallic, composites and hybrid materials. Products can be built to order and are available in several categories including:
Custom high performance structures
3D printed metallic structures with high vibration damping
Space Structures also offers an advanced analysis software that can verify bolted connections in space hardware according to the relevant standards called SpaceBolt™. The software has been positively evaluated by the European Space Agency (ESA) and enjoys a large and constantly growing user family.
Design, consultancy and engineering services
Alongside custom product development Space Structures also provides a variety of engineering and other services to help their clients develop better space missions.
Hardware experts are on-hand to assist with guidance across all aspects of modelling, design and development of space hardware.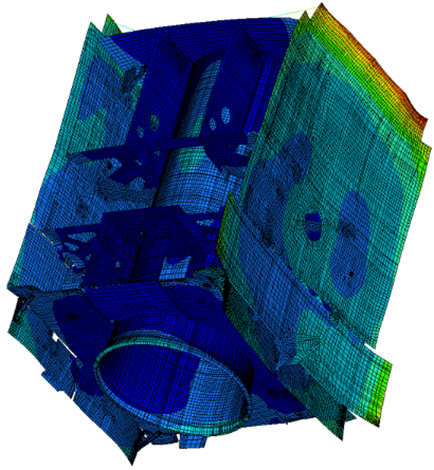 Space Structures is also experienced in all aspects of hardware mission preparation including transport, testing and launch of hardware. This enables them to act as a valuable partner to clients, advising on technical issues at every stage of the process.
The importance of composites
Composite materials are emerging as a critical aspect of space technology. The drive to increase to performance and reduce weight is needed in missions of all sizes, from nanosatellites to the International Space Station (ISS).
In addition, a number of larger scale missions and structures are planned in forthcoming years that will require high performing structural parts and materials in several areas.
With a solid track record and an impressive client portfolio that includes the European Space Agency, Airbus, OHB and many more, Space Structures is ideally placed to capitalise on this trend.
Insights from Space Structures
To find out a bit more about Space Structures' recent achievements and future plans we spoke to the Managing Director Florian Ruess.
He explained that the company is in a very strong position at present while also looking forward to future potential growth:
We've signed several major strategic cooperation agreements with leading space companies for the supply of custom structures. We plan to significantly increase the volume of such contracts in the next 12-18 months, growing the company by an additional 25%.
Florian also shared with us his views on the growth of the space sector, explaining:
The space sector is booming in every direction and developments are accelerating significantly.
This growth is only possible with an adaptable supply chain. Space companies that outsource are reacting to changes by selecting more specialised partners and diversifying the supply chain.
We're seeing the creation of second or third sources, where single sources have been for decades. More innovative, faster, more flexible and cheaper supplies can be provided (only) by SMEs – particularly really small businesses.
This is where Space Structures is positioned.
Working with satsearch
We are very pleased to include Space Structures in our Membership Program and have been delighted to support them in their work. As Florian explains:
"As emerging markets mature, SMEs like ourselves need to take advantage of the speed and efficiency of our operations to expand our global footprint. This is where satsearch is valuable to us."
"We see satsearch as a means to get us global visibility in an easily searchable online directory."
For more information on Space Structures, please view their profile here on the satsearch platform , or to find out more about our Membership Program, including how your business can join, please view this page.