Satsearch and Kerala Startup Mission (KSUM) have recently finalised a new partnership to promote and facilitate the development of an innovative NewSpace park created in Kerala, India.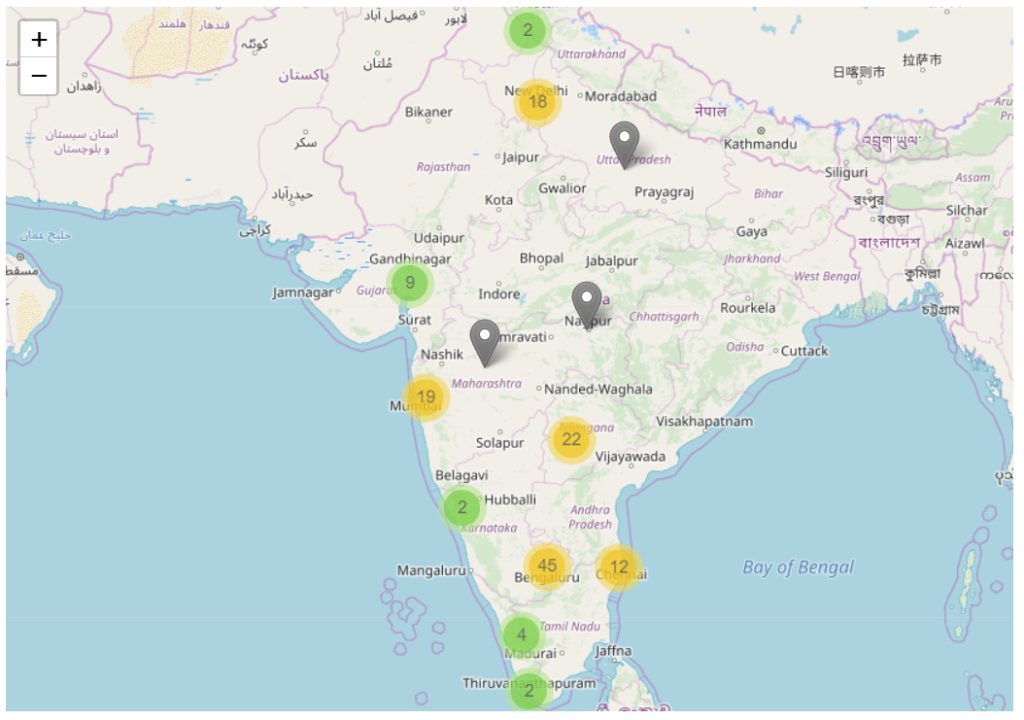 The exciting new concept is called the Space Technology Application Development Ecosystem (STADE) and it aims to act as a facilitation centre for NewSpace startups in the state; helping them to develop new products, expand their customerbase and access markets across the world.
The STADE was launched recently by Kerala Chief Minister Pinarayi Vijayan, and is also being supported by the Indian Space Research Organisation (ISRO) Vikram Sarabhai Space Centre (VSSC) and Airbus BizLab.
The partnership
In the last few years satsearch has developed a global marketplace for space companies featuring over 1,000 companies and thousands of products and services on its global platform. The data of Satsearch Member companies is also integrated into a variety of engineering software and mission design environments, exposing products to new potential customers in a native design
In this mutually-beneficial new agreement satsearch will help support the development of STADE by offering its services to the satsearch community, and evangelising the high quality space businesses that are part of STADE to the global community.
Current member companies of STADE
Three innovative NewSpace companies have already signed up to STADE and are benefitting from the forward-thinking environment that has been created:
SatSure uses data to solve geospatial problems for clients across a range of sectors including energy, agriculture and telecommunications. SatSure combines space-based sensor data with information from other technologies (such as drone imagery, Internet of Things (IoT) sensors and existing socioeconomic datasets) using a bespoke platform that deploys proprietary machine learning algorithms to extract useful insights for clients in almost real-time.
Bellatrix Aerospace is an R&D company developing orbital launch vehicles and satellite propulsion technology. Bellatrix has created a two-stage nano-satellite launch vehicle and a patented electric propulsion technology for satellites.
Agnikul produces orbital class launch vehicles designed to lower the costs of getting to space.
Supporting India's space ambitions
Satsearch has deep ties to the Indian space industry and the new partnership with KSUM represents yet another step.
There are over 130 Indian space companies listed on the satsearch platform, and we have also signed agreements with ANTRIX, to support the country's NewSpace supply chain, and Space BD, to promote closer India-Japan collaboration in the space industry.
We have also brokered several deals for companies and helped Indian businesses identify new opportunities across the world.
Our COO Narayan Prasad also recently co-authored a substantial new report on Europe-India space cooperation that has been gaining a lot of attention and traction in the sector.
Finally, discussions are underway between the STADE team and both the French space agency CNES and the European Space Agency (ESA); two organisations that satsearch also maintains close working relationships with.
It is an exciting time for the NewSpace sector in India and we're very pleased to play a role in its further development!
About satsearch
Satsearch is an ESA-backed startup building the global marketplace for space. We have developed an innovative platform featuring over 1,000 space companies and thousands of products and services from around the world.
About Kerala Startup Mission (KSUM)
Kerala Startup Mission is a local government organisation building a vibrant, active and successful startup ecosystem throughout the Kerala, India's 13th largest state by population. You can find out more about them here.
If you have any questions about this new partnership or would like to know more about KSUM, the STADE concept and NewSpace park, or the wider space industry in India, please contact satsearch COO Narayan Prasad at [email protected] or on LinkedIn.