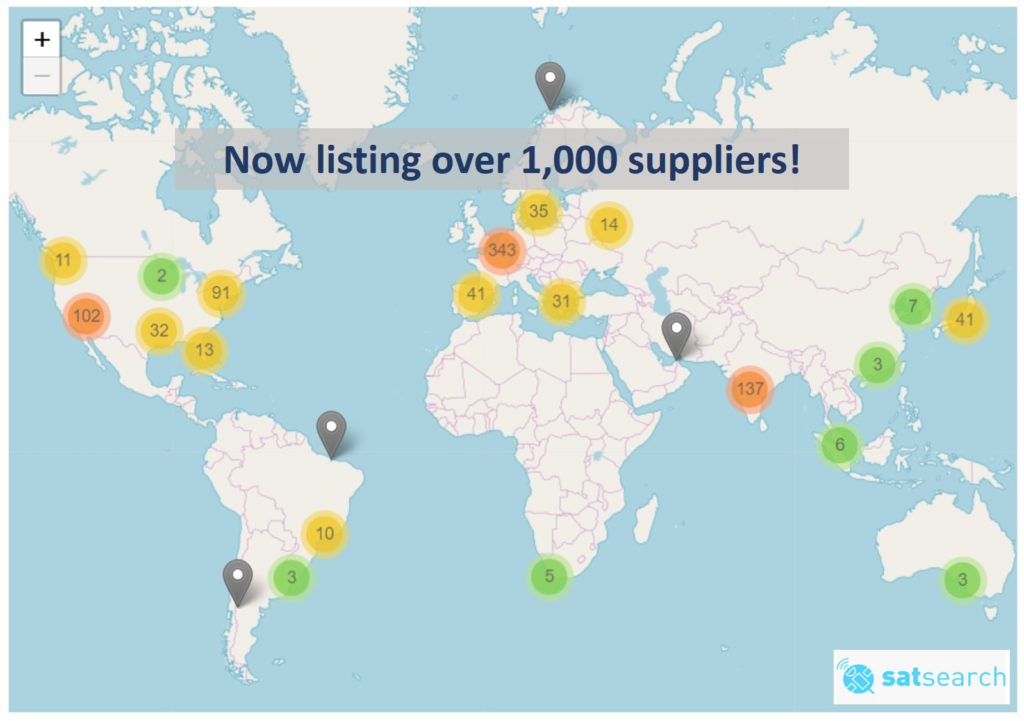 We are very pleased to announce that the satsearch platform recently hit a major milestone in featuring over 1,000 space suppliers from around the world!
Hailing from 47 different countries, we've curated a wide variety of space technology manufacturers and service providers, all active in the market, from small, innovative new startups to large, well-established space organizations.
Currently, the USA is the single country with the most suppliers in our platform, followed by India, but as a region Europe features more businesses than other locations. As we continue to grow our database, our aim is to accelerate our effort to map out the global supplier ecosystem.
You can see a breakdown of the full list of suppliers by country in the chart below, or click here to see the live map on our website, get your business listed, or search through our rapidly growing supplier ecosystem:
New companies, innovative products and growing opportunities
Our regular engagement with the market shows that cost efficiencies, standardization, and traction from commercial end-users are driving the development of new space companies all over the world.
Our wealth of supply chain data shows that the barriers to entry in this market are rapidly disappearing, opening up significant new opportunities for the spin-in and spin-out of core technologies.
The platform we have developed has enabled us to generate over €8,000,000 in lead value already in 2019 for our valued members.
Find out more about how our platform can help your business here.
What's next?
The commercialization of space is well underway, and our rapidly growing dataset is helping to shed light on new potential areas of growth that await companies across the globe.
We are very pleased to help more than 1,000 companies expand their global footprint, generate new business, and grow the space industry – next stop, 10,000 suppliers!
We've also produced a short infographic below, summarizing some of the key lessons and insights we've gained from growing the marketplace to where it is today.
To try out the platform for yourself, go to satsearch.co