The space industry is today worth over $350 billion and experts predict it will reach $1 trillion1 in the next few decades. Demand for new technology and services is growing from both the public and private sectors, and innovative companies are cropping up all over the world in order to meet this challenge.
To help emerging and established space businesses take advantage of the enormous opportunities that exist in the sector we have built the Satsearch Membership Program (SMP), right here on the global marketplace for space!
The challenge of growth
We know how tough it is to expand your customer base and break into new vertical and geographic markets. Perceptions of your company are very important; B2B customers will often have their minds mostly made up, before they ever speak to your sales staff2 . And in an industry like space, in which the incumbents have dominated for so long, how your company is positioned and perceived is even more vital.
The global space industry is also diverse and highly fragmented. Traditional companies, agencies and governments utilise embedded supply chains and procurement procedures that can be resistant to change, in the face of a dynamic commercial market.
As the space market rapidly trends towards greater commercialization, these organizations have to develop agile supply chain strategies to remain competitive. Supply chain agility is necessary to remain competitive by driving down costs, improving reliability, controlling lead times, and delivering state-of-the-art space missions.
And the competition is growing every day.
How satsearch boosts space businesses
Our aim is to support space companies like yours, to attract and engage with new business opportunities globally.
At satsearch.co, we have built a global hub for space clients and suppliers to come together, and a multi-level search engine and product categorisation system that enables potential buyers to find what they are looking for within a few clicks.
We're growing each month – here's an overview of the traction we achieved in 2018: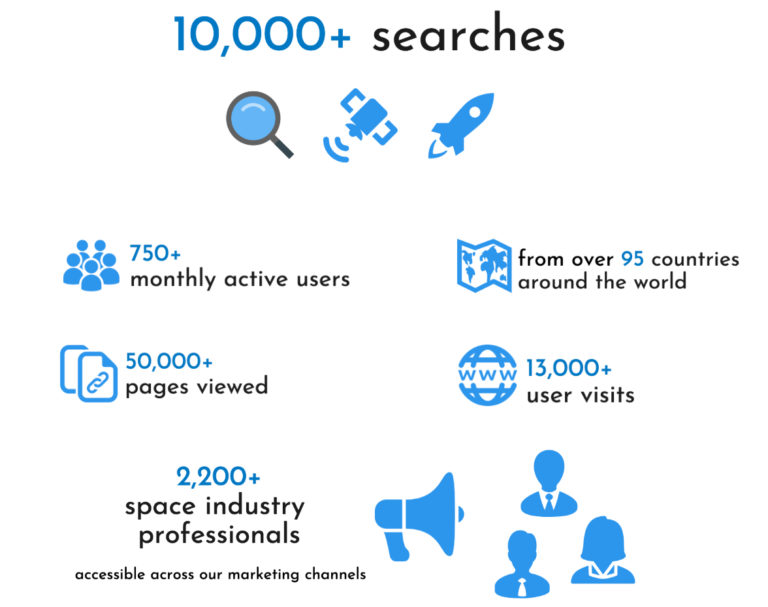 To help exploit the opportunities that our platform is creating every day, we offer satsearch members support in four key areas:
1. RFI/RFP management
The satsearch platform is used by space industry professionals searching for new suppliers and technologies every day. The current purchasing cycle in the industry can be long and complex, requiring several emails, presentations and meetings to close a deal.
Satsearch members can supercharge this process by tasking us to handle Requests For Information and Proposals (RFIs/RFPs) that are submitted through the platform. Through our proprietary algorithms and extensive in-house expertise, we are able to qualify all leads, delivering new business opportunities directly to you.
2. Priority visibility
To ensure that potential buyers only find high-quality companies with the ability to meet their needs, we carry out verification of new SMP applicants during the application process.
Once completed we distinguish a member supplier's company and product pages through a 'verified' icon, so anyone who views their pages (either directly or in search results) will know that this is one of our member companies, subject to verification by our team. Users can also filter results to quickly view suitable search results provided by members.
3. Promotional support
We will also actively shine our spotlight on members, to the global space community.
We share news and updates across our social media platforms, email newsletter and other marketing channels, directly to our growing audience of space industry professionals.
We also feature members in dedicated blog articles, such as this post on innovative satellite propulsion company Morpheus Space.
4. Business data integrated into the satsearch API
One of the most innovative ways in which we're helping to democratise the global space supply chain is by plugging new product & services information directly into the design software used by clients to develop systems and mission plans.
By integrating data into the satsearch API, our members will expose their products & services to experts from some of the biggest space agencies and businesses in the world. Members are provided with a unique omnichannel strategy to reach clients all over the world through our website and API integration with third-party systems engineering and procurement software.
Our valued members
The SMP is providing results for a growing number of forward-thinking space businesses around the world:
Building the future of the global space supply chain
Although we have come a long way, there's still plenty left to do.
We're adding new products, suppliers and features to the platform on a regular basis, and expanding our footprint of integrations, so our members can get their products & services plugged into more channels across the sector.
We also have a growing number of partnerships and collaborations that are enabling us to both provide and access new sources of data. We're helping to shorten the sales cycle and simplify procurement through our lead qualification engine, that takes all the headache out of the process of both sides of the marketplace finding each other.
It is our mission to ensure that the entire global space supply chain is fully digitalized and democratized – so the best products and services for each new mission, facility and project can be identified seamlessly across the globe.
Satsearch members will always be at the forefront of our efforts to drive growth across the space industry through supply chain digitalization. Members receive priority access to all new features, initiatives and opportunities, and are given pride of place in our marketing and communications.
Is your space company ready to take advantage of exclusive business opportunities in the global marketplace for space?
Click here to apply for membership today!
References
1. Morgan Stanley – Space: Investing in the Final Frontier
2. Forbes – How To Turn B2B Buyers Into Sales Leads, According To Data