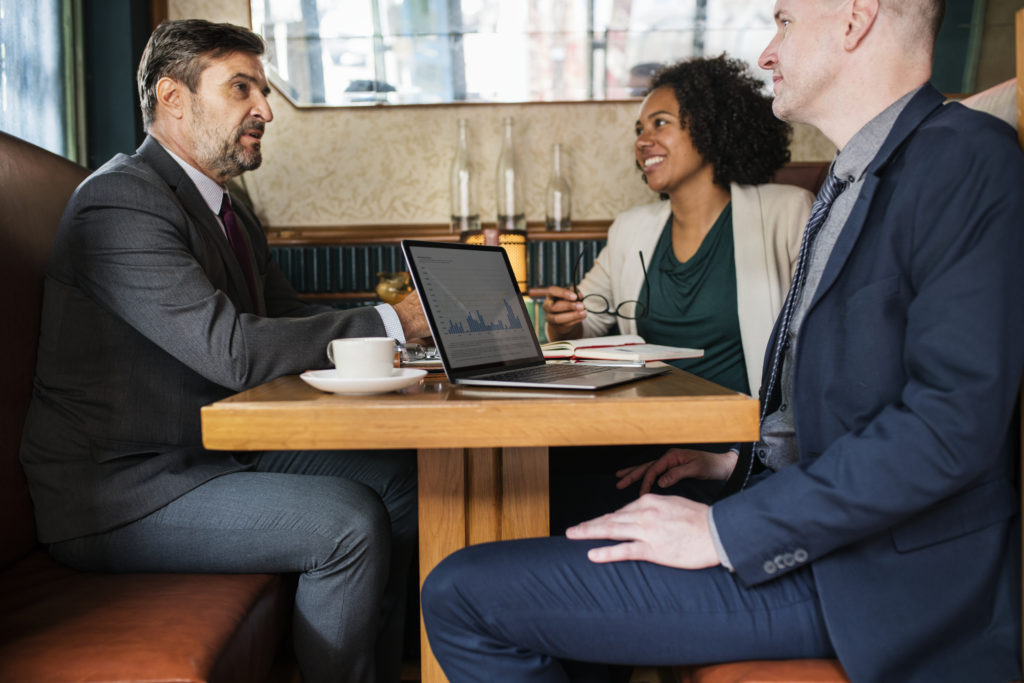 The private space industry provides an almost uniquely fertile field in which innovation can grow.
The scale of the technical challenges involved, extreme nature of the 'test lab' conditions available, and magnitude of the possible prizes on offer are making space irresistible to problem-solvers across the world.
And every day there seem to be exciting new applications launched across a wide range of areas, for example:
But success in the space industry doesn't just rely on technological excellence – personal relationships and human connections are still vitally important.
Although innovations such as new launch capabilities and CubeSats are scaling the sector and multiplying the number of stakeholders involved, the vast majority of new space business initiatives are low volume and high value deals.
And such agreements are made between individual company representatives, building on personal connections and relationships.
In this article we look at a few examples of how such personal relationships are driving the sector and give our thoughts on what companies can do to succeed in the future.
Connecting cultures and opening new markets
Space is an increasingly global (at the very least!) business sector and suppliers are looking further afield for new markets for their products and services.
Private space industry growth is taking place all round the globe, and the best opportunities for a business may lie in parts of the world where they have no presence and have never previously made a deal.
But breaking into a new geographic market can be tough. There is the obvious logistical challenge of transporting or manufacturing products on the ground, as well as overcoming language and cultural barriers that could hinder growth.
In addition, space is a highly regulated industry due to the safety and security issues involved, so compliance is important. And any successful mission requires effective coordination with potentially dozens of organisations that each operate in a different way.
It certainly helps to have a partner on the ground!
A great example of the approach some companies are taking to this challenge is that of satsearch member, Lens R&D. Lens R&D is a systems engineering consultancy and manufacturers sunsensors for space and terrestrial applications.
The company has recently signed an agreement with China-based Microdrive Aerospace to help better serve customers in the region, deal with translation and time-zone issues, and generally help both firms grow.
China is a very fertile market for space technology and the government has recently announced some big new plans such as to build a space-based solar power station in the near future.
Every year there are more and more private space companies in India, China, Japan and across the rest of Asia popping up. With innovative ideas, highly trained workforces and increasing access to capital, the NewSpace sector is looking healthy around the globe.
Companies able to utilise local knowledge and expertise will have an edge on those with a limited reach. And local partnerships are built on personal relationships.
Bridging the public-private interface
If personal connections and corporate partnerships can help firms bridge gaps across continents, then they can also certainly help bring the public and private sectors closer together.
Space has always been an area in which public bodies have traditionally been deeply involved, for obvious reasons. And while NewSpace is often described in terms of the array of independent and private sector actors set to play a role, the big public sector organisations are still critically important.
Personal relationships are helping smaller companies to unlock opportunities that working with these public sector bodies can bring.
This isn't about private space companies vs NASA – this is about understanding how stakeholders from both areas can collaborate on multi-disciplinary missions or develop new technologies that meet shared objectives.
A great example of this can be seen in how satsearch member company SATLANTIS has worked closely with commercialisation consultants Space BD to bring their binocular microtelescope to the Japan Aerospace Exploration Agency (JAXA).
JAXA is the Japanese national aerospace and space agency, and as a result of this partnership SATLANTIS is now the first non-Japanese technology provider to supply a system for JAXA's ISS module.
We also have a relationship with Space BD, and in November last year we signed an agreement to explore promotion of cooperation between India and Japan in the space sector.
While from the outside the big agencies can seem difficult to break into for new private space companies, a bit of personal expertise and support can lead to amazing results.
Connecting seasoned experts with exciting startups
In recent years many startups have entered the space market, with varying success and penetration.
The opportunities are clear, but the scale of engineering, regulatory and cultural challenges are significant. And some great ideas never make it.
To help navigate the complicated maze of technologies, data sources, permits, space agencies and private company suppliers, many startups are looking to work with seasoned professionals with a solid track record and established network in the industry.
The personal experience of such experts can help agile new businesses flatten the learning curve and get to market faster and at a lower cost.
SCISYS Group is an international IT services and software provider working across several sectors, including space, and has offices in a number of European countries.
Recently, German-based space experts at SCISYS Deutschland agreed a new partnership with an Australian-based startup Southern Launch to provide insights and expertise to help the company develop.
The relationship began during a visit to Australia organised by the South Australian Space Industry Centre (SASIC), and future projects will also involve a new initiative called the Cooperative Research Centre (CRC) – a network of industry and research professionals who will collaborate to develop the space industry in Australia.
By connecting experts to innovative young businesses in this manner the organisations tasked with developing national and regional space industry capacity can help achieve their goals and democratise the sector.
Solving global problems with partnerships at scale
Partnerships in the private space industry aren't just for smaller businesses of course. There are many large and public space companies that are working in consortia to solve big challenges.
One example is Global Fishing Watch, a collaboration between conservation group Oceana, environmental non-profit SkyTruth and a little tech firm you might have heard of called Google.
The partnership is aiming to combat the multi-billion-dollar problem of illegal fishing by using new technologies to track and monitor illicit vessels.
The project is now using data from some of the 64 small satellites that were put into orbit during SpaceX's record-breaking December 3rd launch of the Falcon 9.
With this new capability the organisation will be able to collate data collected from other sources (such as photographs, radar and radio beacons) and build a richer, more real-time picture of ocean fishing around the world.
There are many large space companies out there (for reference, the Space Settlement Institute have put together this excellent list of Publicly Traded Space Companies) looking for partnerships with businesses and organisations that can help expand their reach and impact.
As the industry grows and democratises, those in smaller companies who are able to develop relationships with bigger players can leverage them into all sorts of exciting new initiatives.
Developing new partnerships
So what can a small business do to try and grow through partnerships and personal relationships?
Well, primarily it all comes down to your people.
The employees, advisors and other close connections that your business accrues are one of your most powerful assets.
If you can encourage and empower them to develop strong personal networks and actively seek out ways to develop partnerships, you could open up a whole new set of opportunities outside of business development activity.
But this has to work two ways; they need to get something out of it too.
Your staff want to grow their own careers and become recognised in the field. They have personal and professional objectives (just like you do too) and will appreciate opportunities to work towards achieving them.
If you can align the goals of your staff with those of your business, then any network and relationship-building can be done in that context. Here are a few tips to help you do this;
Vision – Ensure your company's vision is clear, recorded and easily accessible to your staff; if they know what you are collectively trying to achieve it will be easier for them to recognise opportunities to build relationships that can help you get there.
Clear responsibilities – Make sure everyone knows what areas each senior person is in charge of. Inertia kills off many potential projects and partnerships, so make sure that your people know exactly who to funnel new requests and ideas to in different areas.
Follow up – Encourage and facilitate the follow up. Building on the point above, if you can get your people to follow up with discussions, leads and opportunities, you'll be far more likely to get things off the ground. Enable this by regularly providing ideas and materials that can be shared externally and help your staff keep those vital connections engaged.
Personal branding – Help staff present themselves and your company in a rich and engaging way. Ensure that team website pages and LinkedIn profiles are up to date and consistent, and share best practices to help them develop better online brands.
Stay up to date – Keep your people informed of new business development initiatives and objectives so they know exactly how to help, and what to look out for when interacting with their own network.
Iterate – Encourage smaller collaborations that can grow into real partnerships. Marketers can reach out to industry experts in other organisations for quotes and insights for new content that can be cross-promoted, engineers can share non-business critical tools and solutions with other companies and ask for their feedback, and management can discuss industry trends or operational changes with counterparts at other firms to build closer relationships. These small steps can lead to closer collaboration further down the line when the timing and opportunity is right for both parties.
These are just a few ideas, and apply to any industry, but it is important to note that in the space sector things are still in relatively early stages – so there are lots of opportunities for new partnerships up for grabs.
This is something we have always recognised as a business.
Although we're building a platform that facilitates the democratisation and scaling of the space industry (simplifying sales and procurement processes and opening up new opportunities for suppliers and upstream clients alike) we are, in part, developing our capabilities through personal relationships.
To date we've signed several partnership agreements which have come about due to our network and connections in the field such as to build technical integrations with third-party software or a partnership with the French Space Agency Centre National d'Etudes Spatiales (CNES) that we signed last year to advance the digitalisation space engineering.
Humanity's access to the stars will only be built on a firm foundation of personal relationships built here on Earth – good luck developing yours!