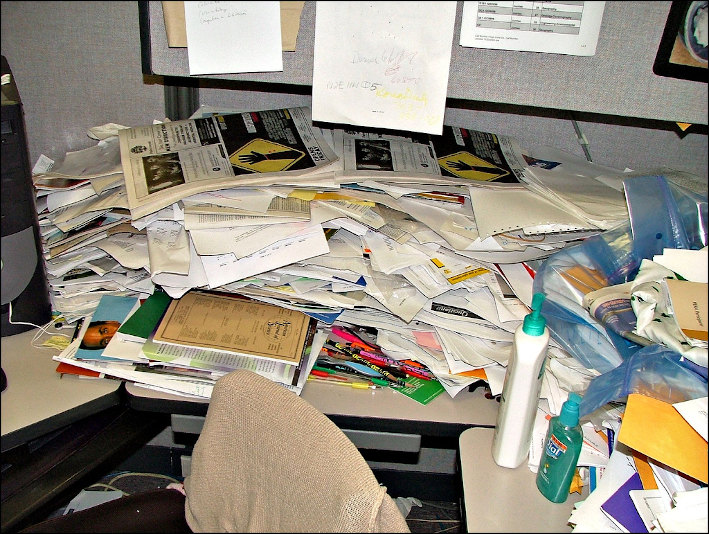 The importance of addressing the core challenge of unifying the global space supply chain, touched upon in a recent article on the satsearch blog, cannot be stressed enough. The manual extraction, interpretation and use of supply chain data make the spacecraft design process lengthy and exhaustive. At present, the engineer must manually define every design concept, a tedious and time-consuming activity. The vision for the future is to automate this process by aid of digital tools that, given a set of requirements, will yield a set of feasible design options. This will enable the engineer to focus on the most difficult aspects of the engineering workflow, including trade-off analysis, risk assessment, and sensitivity studies.
Advanced space mission design
At satsearch, we are moving from a document-centric approach to a model-centric approach for the design of space systems, by developing a design method to automate manual data and parameter extraction. Application of this method to different system solutions will yield an accurate and comprehensive set of ranked design options that can meet all the imposed requirements. The preliminary conceptual design of a complex space system will thus be achieved in less time, with less manual effort from the engineer by leaning on greater design automation, and result in more insight into feasible options within the design search space.
There is a great amount of work that needs to be done behind the scenes to make all this work. The satsearch team has a clear vision for the future and is laying the foundations to progress towards this improved vision for space mission design. Ultimately, the aim is to evolve the mission design process towards the use of advanced methods, like artificial intelligence, to support the engineer during all phases of the design workflow, through a decision support system (Girimonte & Izzo, 2007). For us, the starting point towards this goal is to develop Electronic Datasheet (EDS) technology, which will help to standardize the language, or ontology, that we use to describe space systems.
Electronic Datasheets
A "datasheet" is a means of communication between suppliers and potential buyers (Dewey). The objective of a datasheet is to provide clear and unambiguous information about a product, to foster trade and communication. The importance of a datasheet lies in the accurate specifications and the detailed information it contains. The datasheet should include the information needed by the user to implement and evaluate the level of performance of the product in his or her system.
Datasheets were originally developed for electronic components and circuits, and soon massive use of datasheets spread in other fields as well, ranging from nanotechnology to the aerospace industry. Nowadays, every engineering discipline or technology-related field makes extensive use of datasheets to capture the performance characteristics of a component.
Developed in a paper, document format for decades, datasheets are characterized by different layouts from different organizations and potentially dissimilar levels of information are issued. In spacecraft design, to make sense of the large amount of data, a paper, document-centric approach requires manual translation to simulators and mission control system databases (Fowell, 2013).
As far as the content and format of datasheets is concerned, many industries have not yet completed a standardization process. Had this been done, it would allow for a much easier and more effective comparison of similar products from different or even the same supplier. Hence, as modern system design gets more complex, the display of accurate product information in standardized, electronic form has emerged as an essential requirement to support advanced design methods.
We strongly believe the process of finding the right parts for a design must be made both easier and faster for the space industry to achieve the ambitious goals of the coming decade, like asteroid mining, Mars settlement, deep-space exploration, and large constellation systems for Earth Observation, navigation, and communication.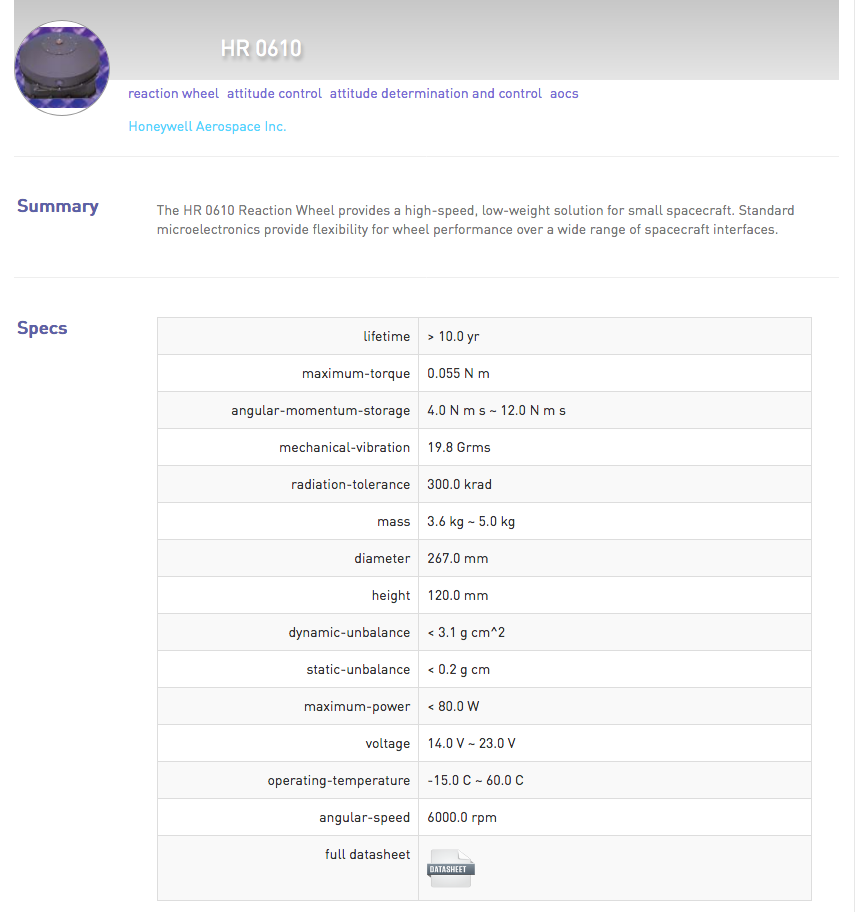 As an means to automate several aspects of spacecraft development, operations and maintenance (Wilmot, 2017), the EDS technology we are developing can offer a viable solution. EDS are machine-readable, structured documents that enable electronic capture of all product information, with autonomous checking for consistency and completeness, and automatic implementation into space systems databases.
As reported by Dewey, electronic datasheets «[..] will eliminate much of the publishing time lag and help to ensure that the latest information is used by the systems designer in contrast to the printed data sheet, which is often obsolete the minute it is printed». Even before a space mission reaches the development phase, EDS could be employed during the proposal and mission definition phases, to accurately specify the system requirements and generate cost estimates.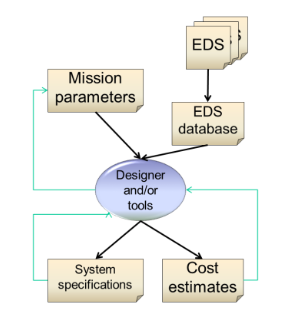 Next steps
As we keep developing our unique EDS technology, we believe standardization and improvements in the way datasheets are generated by suppliers are the first pivotal steps towards our mission of consolidating the global space supply chain. Future articles will dig deeper into the EDS technology being developed at satsearch and case studies of applications to different aspects of the space mission design lifecycle.